Eric Stevenson convicted on bribery and conspiracy charges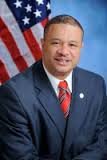 Disgraced Bronx Assemblyman Eric Stevenson was found guilty on charges including bribery and conspiracy. He could face 20 years in prison.
Federal prosecutors charged Stevenson last April for taking more than $20,000 in bribes from four businessmen in exchange for drafting, proposing and agreeing to enact legislation that favored the bribers' business interests. Specifically, the businessmen, who sought to operate and construct adult day care centers in the Bronx, paid Stevenson to sponsor and introduce legislation that would declare a three-year moratorium on the construction of adult day care centers in New York City while exempting their current centers, in effect giving the businessmen a monopoly in adult day care centers in the area.
"As a unanimous jury swiftly found, Assemblyman Stevenson brazenly betrayed the public that elected him. Graft and greed are intolerable in Albany, and we will go to trial as often as we have to until government in New York is cleaned up," said Manhattan U.S. Attorney Preet Bharara.
Bronx County District Attorney Robert T. Johnson said he is grateful that Bharara and his office were successful in uncovering and bringing to justice an elected official.
"It is fortunate that we were able to root out this corruption before this politician could do serious damage to the legislative process," said Johnson.
Serving as a member of the New York Assembly since 2011, Stevenson represented District 79, which includes various neighborhoods in the Bronx. Bronx Borough President Ruben Diaz Jr. said Stevenson's conviction closes a dark chapter in the borough.
"As I have made crystal clear in the past, our borough and our city require and deserve honest, corruption-free government," said Diaz. "The public must have faith in its elected leaders, and the deplorable actions of Assembly Member Stevenson should not cast a bad light on all elected officials, most of whom work hard to deliver for their communities and solve the issues that face our neighborhoods."
Stevenson was convicted of one count of conspiring to commit honest-services wire fraud, one count of conspiring to commit federal programs bribery and to violate the Travel Act, one count of committing federal programs bribery and one count of extortion under color of official right. Each of the counts of conviction also carry a maximum fine of $250,000.
The assemblyman canceled a scheduled press conference last week to tell his side of the story. He said in a statement he called the verdict an "injustice" and "unfair."
Sentencing for Stevenson is scheduled for May 20.