Heartbroken city grieves: Avonte Oquendo's remains found in East River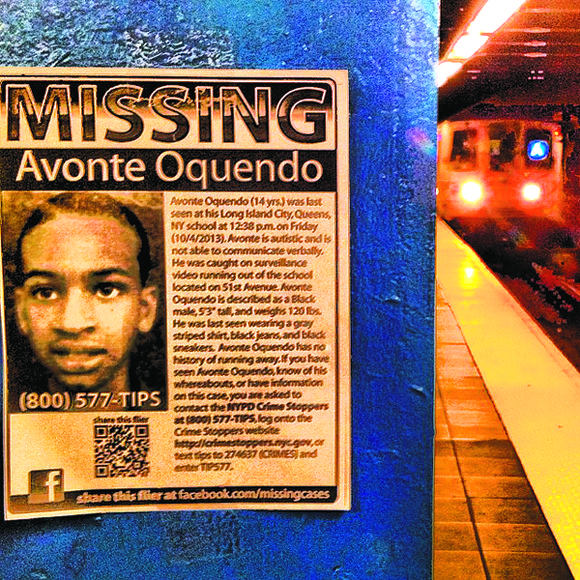 There were thousands of posters in stores and office windows, T-shirts and buttons with Avonte's face and contact information on them in case he was seen. Police said that there were hundreds of leads in the case, even one where someone wrote a note about a Harlem sighting on an Avonte missing poster at the Amsterdam News uptown office. However, all leads turned up nothing.
Last Thursday, Jan. 16, a 14-year-old girl found an arm as she walked along the East River bank in College Point. Reportedly, she took a photo of it and told her mother. Police locked down the area. More body parts, including a leg, torso and a skull, were found in a stretch of water about nine miles from where Avonte was last seen on Oct. 4. A day later, police searchers found Air Jordan sneakers and a pair of jeans similar to what Avonte was wearing. But the underwear that was found apparently had not been what he was wearing.
The speculation is only adding to the confusion. The medical examiner has not stated whether foul play was involved or if the remains were part of natural decomposition.
On Oct. 4, 2013, Avonte was seen on video running out of his Center Boulevard School (also known as the Riverview School) in Long Island City, even though he was supposed to be supervised at all times due to the fact that he was a known "runner."
A school safety officer said that she saw Avonte in the hallway and told him to go back to his classroom. She claimed that he went back upstairs, but video shows him running out of the side door of the school at 1-50 51st Ave.
Reportedly, search dogs traced him to a marsh in the river and then to a nearby subway station. But they lost his scent. Weeks later, detectives told this reporter at the makeshift headquarters the family had put up outside the school that cadaver and water cadaver dogs had searched the site, the marshes and the river.
The city's special commissioner for investigations is on the case.
New Schools Chancellor Carmen Fariña said that she too was heartbroken, declaring, "As chancellor, I am determined that we learn every lesson we can from this terrible tragedy and do everything in our power to prevent incidents like this from ever occurring again."
Back in October, Perecman filed a $25 million notice of claim. On Tuesday, the lawyer asked, "Why did it take 15 minutes for school administrators to find out? Why were police in a neighborhood precinct not alerted for about an hour? … I am convinced that had a prompt reaction occurred, had some of this cascade of errors not occurred, that the police would have been called, they would have went outside, and they would have found Avonte before this happened.
"He would be home right now. He would be wearing his Air Jordans, and they wouldn't have been found in a river."
Neither Mayor Bill de Blasio nor the New York City Department of Education responded to AmNews requests for comment.
Daniel Oquendo is trying to hold up for the family. He told the Amsterdam News, "I'll be OK. With the help of family and friends, we will be OK."