Twenty-four hours in Montreal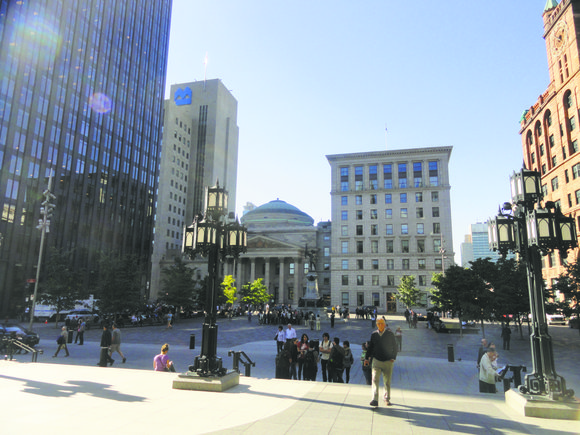 A one-part article is not nearly long enough to capture the essence of the Canadian jewel that is Montreal. But alas, I only had less than 24 hours in this stunning, cosmopolitan city—which has been described as "a lush mix of North American swagger and Euro-cool"—as it was the starting point of a sojourn throughout the province of Québec.
Last October, my brief home-away-from-home was the Montreal Airport Marriott Hotel, conveniently located inside the Montreal-Trudeau International Airport. Yet despite the cacophony of the airport environment, once inside, you feel like you've stepped into a peaceful retreat offering the utmost in luxury and class.
The rooms are spacious and charming, with fashionable, chestnut-hued cabinetry and furniture with platinum accented hardware, modern bathrooms with glass-enclosed showers and beautiful tile, and plenty of closet, dresser and desk/counter space.
On the eighth floor, you'll find a well-appointed fitness center overlooking the rows of Air Canada aircraft waiting to move into their open gate. The nicest surprise here was the tropical-themed, heated indoor pool, Jacuzzi and relaxation area with soaring floor-to-ceiling windows on one side, dotted with chic, avocado-hued outdoor patio couches and double chaise lounge chairs, with their AltiSpa just around the corner. Meals are served in the Bijou Restaurant and Bar, with hot beverages, pastries and the like offered throughout the day in the Illy Café.
The whole experience was a lovely, unexpected surprise.
"An island city that's open to the world"
My pre-trip homework revealed that this city of 1.7 million denizens (Québécois), founded in 1535 after an estimated 12,000 years of Native American occupation, was first ruled by the French and later by Great Britain until 1763, when it took its destiny under its own reigns. Today, Montreal—named after the "mountain," Mont Royal—is actually an island situated in the St. Lawrence River near the confluence with the Ottawa River, constituting part of the Hochelaga Archipelago.
After dropping off my bags at the hotel, I took a short bus ride then joined the multicultural throngs of people aboard the Metro (which is very easy to navigate, like the subways in New York, San Francisco and Paris) disembarking in the center of town.
It was a beautiful fall day in Vieux-Montréal (Old Montreal), with daytime temps hovering in the mid-70s and cooling down to the upper-50s at night. I was delighted to amble about, taking in the sights, smells and vistas of this fabulous locale situated about an hour from both New York City and Chicago, three and a half hours from Dallas and Miami and five and a half hours from San Francisco.
Montreal is a very welcoming city, in part due to the burgeoning number of international immigrants that call the metro area home, and there is still an allegiance to the 11 First Nation tribes, comprised of approximately 70,000 aboriginal people who reside in the province. Despite this, Montreal still strongly identifies with its rich French culture and maintains French as the primary language.
Walking around, it wasn't long before I noticed the palpable, natural ease of the denizens here, evident in their composure and interpersonal interactions, and was amazed to see the outdoor cafes filling up with folks … starting around 5 p.m. … on a Monday! Together, this seems to translate into an authentic attitude of gratitude for the simple things of everyday life. It is very welcoming and refreshing for a city of this size.