Twenty-four hours in Montreal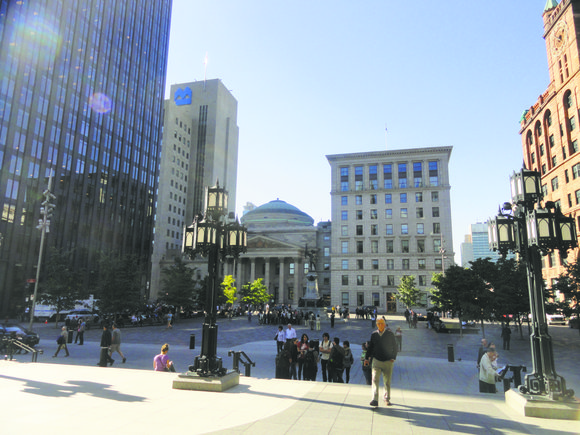 And everyone is in good shape! I don't mean five-times-a-week-at-the-gym good shape, but for the most part, everyone was thin and healthy looking. A large part of this is likely attributable to the prominent use of public transportation and the large contingent of people moving about on two wheels in this very bike-friendly city.
See it and Eat it!
Visitors here will find a wealth of historic and noteworthy sites and attractions, including the Basilique Notre-Dame, the Musée des Beaux-Arts and the Centre des Sciences de Montréal.
Olympic Park, built for the 1976 Summer Olympics, is another major tourist attraction and home to the Tower (the tallest inclined tower in the world), Olympic Stadium, the Montréal Botanical Garden, Planétarium Rio Tinto Alcan, Esplanade Financière Sun Life, the Sports Centre, the Montréal Insectarium, the Montréal Botanical Garden and the Montréal Biodome, just to name a few.
Unfortunately, I only had the opportunity to eat at one restaurant in town, a hard choice among the bevy of outstanding eateries ranging from amazing Eastern European to Greek, South African, Italian, Brazilian, British, Turkish, vegetarian, French of course and everything in between.
After meandering about and perusing several menus, I chose an early dinner at Restaurant Le Fripon, located on Place Jacque-Cartier along an expansive, pedestrian-only pathway stretching from the waterfront into Vieux-Montréal. The restaurant serves a wide array of delicious, creative and French-inspired appetizers, seafood, grilled meats, pastas and daily chef specials. I opted for a lovely plate of smoked duck breast, goat cheese and green apple, as well as their house specialty—the Assiette Mer Mer—a delightfully delicious combination of a half-pound lobster, mussels and French fries, and a glass of wine. Ooo-la-la!
Fully sated and relaxed, I walked for several more hours through Montreal's charming streets, passing quant retail shops, wine and specialty food stores, major and boutique hotels and several museums.
Even after dark, I felt perfectly comfortable wandering alone to enjoy all that this captivating city has to offer. At about 8 p.m., I made my way back to the Metro, riding back to the hotel for a restful evening.
Although excited about my upcoming sojourn throughout the Quebec province beginning the next morning, I wished I had just a little more time. But as is the case with many other places I have visited and with which I fallen in love, I know I will just have to come back!
Lysa Allman-Baldwin writes for numerous online and print publications, including as the cultural travel writer for www.Examiner.com and as a senior travel writer for SoulOfAmerica.com, an Afrocentric travel website. Lysa can be reached at lallmanbaldwin@kc.rr.com.
Resource List
Basilique Notre-Dame: 514-735-1361, www.basiliquenddm.org/en
Centre des Sciences de Montréal: 877-496-4724, www.montrealsciencecentre.com
Montreal Airport Marriott Hotel: 514-636-6700, www.marriott.com/hotels/travel/yulma-montreal-airport-marriott-hotel
Musée des Beaux-Arts : 514-285-2000, www.mbam.qc.ca/en
Olympic Park: 877-997-0919, http://parcolympique.qc.ca/en
Restaurant Le Fripon: 514-861-1386, www.restaurantlefripon.com/en
Tourisme Quebec: 877-266-5687, www.bonjourquebec.com/qc-en/montreal0.html
Vieux-Montréal (Old Montreal): www.vieux.montreal.qc.ca/eng/accueila.htm