Speculations for tonight's State of the Union Address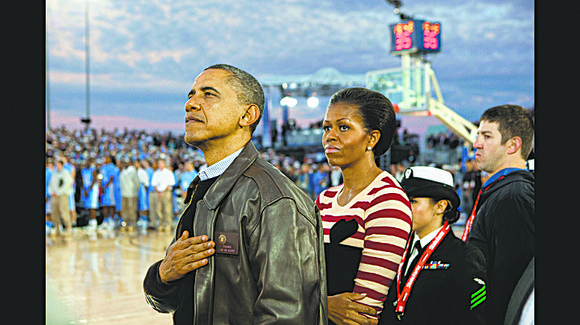 As the nation readies itself to hear President Barack Obama's State of the Union address tonight at 9 p.m., analysts around the country are not without their own opinions and predictions of just what he might say.
Spencer Overton, the Obama Administration's former Assistant Attorney General for Legal Policy, speculates in the Huffington Post Black Voices that this speech will be particularly significant for the Black community as it "emphasizes three primary themes --opportunity, action, and optimism."
Though there's no telling as of yet, a glance at the guests invited to sit in the First Lady's Box at the speech tonight can give some insight as to the issues that President Obama may be planning to address.
With 17 chosen so far, and more to be announced throughout the course of the day, this diverse group of Americans is meant to represent the masses, will sit alongside the First Lady in a viewing box to watch the State of the Union Address later tonight. According to the current listings posted on whitehouse.gov, the honored guests include several African-Americans:
Jason Collins, the first NBA player to come out as openly gay
Legally blind environmentalist Tyrone Davis who received a fellowship with the Environmental Defense Fund in 2010 enabling him to provide his HBCU with ideas to save more than $31,000 a year in energy costs and reduce carbon emissions
Vice Admiral Michelle Howard, the first female four-star Admiral in the history of the United States Navy
Sabrina Simone Jenkins, 42, a single mother and recent graduate of DeVry University with almost $90,000 in student loan debts currently living on the brink of poverty.
Overton reasons that "[developing long] term ideas and policy options on the future of African Americans...is no easy process, and involves pulling together not only scholars and other experts in traditional subjects like civil rights and criminal justice, but also fast-changing areas like technology and globalization."
The Obama Administration seems to acknowledge this as they recognize extraordinary African-Americans who have made outstanding achievements, broken down oppressive barriers, and proved to be just as innovative in scientific fields as their white American counterparts.
With this in mind, it's safe to say that if Obama cannot convince Congress to act accordingly, if he emphasizes these themes tonight, he still may further unify the black community in America renewing the fervor to make a cohesive effort to initiate change for the community by encouraging starting within itself.
Still, as evident by White House chief of staff Denis McDonough's statement, "It's not a question of looking at Congress."
"Congress is slow to action and we're not going to wait for that," McDonough states.