Obama's Orders: President announces new executive orders in State of the Union
Herb Boyd | 1/30/2014, 11:59 a.m.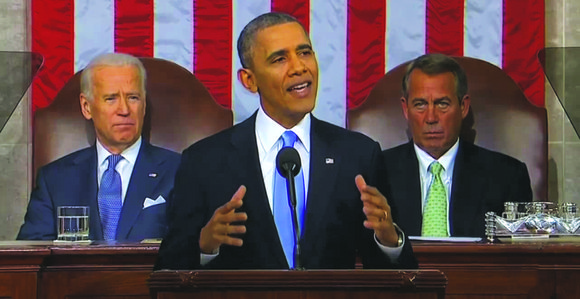 As President Barack Obama neared the end of his State of the Union address Tuesday evening, he cited the bravery and resilience of Sgt. 1st Class Cory Remsburg, who was seriously wounded while serving his 10th deployment in Afghanistan. A massive roadside bomb sent shrapnel into his brain. But Remsburg survived and was among the citizens the president recognized. Remsburg, the president said, "never gives up, and he does not quit."
Nor does Obama give up or quit despite having the lowest approval rating of any president entering his fifth year in office. Clearly unfazed by the negative polls, Obama was at his oratorical best as he dwelled on health care, minimum wage, equal pay and, of course, Iran.
His remarks on education aroused the entire chamber, as did his comments on terrorism, the military and veterans. He recalled that last year, he pledged to connect 99 percent of "our students to high-speed broadband over the next four years. Tonight, I can announce that with the support of the FCC and companies like Apple, Microsoft, Sprint and Verizon, we've got a down payment to start connecting more than 15,000 schools and 20 million students over the next two years without adding a dime to the deficit." And it must have pleased both Gov. Andrew Cuomo and Mayor Bill de Blasio when he promised to help states make high quality pre-K available to every 4-year-old.
The president received perhaps his loudest sustained ovation when he touched on the topic of equal pay. "Women make up half of our workforce," he said. "But they still make 77 cents for every dollar a man earns. That is wrong, and in 2014, it's an embarrassment. A woman deserves equal pay for equal work." The full chamber leaped up and stood applauding for more than a minute.
"She deserves to have a baby without sacrificing her job," he added. "A mother deserves a day off to care for a sick child or sick parent without running into a hardship—and you know what, a father does too. It's time to do away with workplace policies that belong in a 'Mad Men' episode." Even Speaker John Boehner had to smile at that reference, momentarily breaking his sourpuss expression.
There are always several plants in the chamber, ordinary Americans invited by the president in order to put a human face on a particular issue, and it is usually represented by a cross section of citizens. Estiven Rodriguez might be considered a twofer, giving the president an opportunity to discuss education and to also allude to immigration. Rodriguez, he explained, moved to New York City when he was 9 and could not speak a word of English. "But last month, thanks to the support of great teachers and an innovative tutoring program, he led a march of his classmates … from their high school to the post office, where they mailed off their college applications. And this son of a factory worker just found out he's going to college this fall."