On the Verge: De'Adre Aziza
LAPACAZO SANDOVAL and PAUL ZAPATTA | 1/30/2014, 3:40 p.m.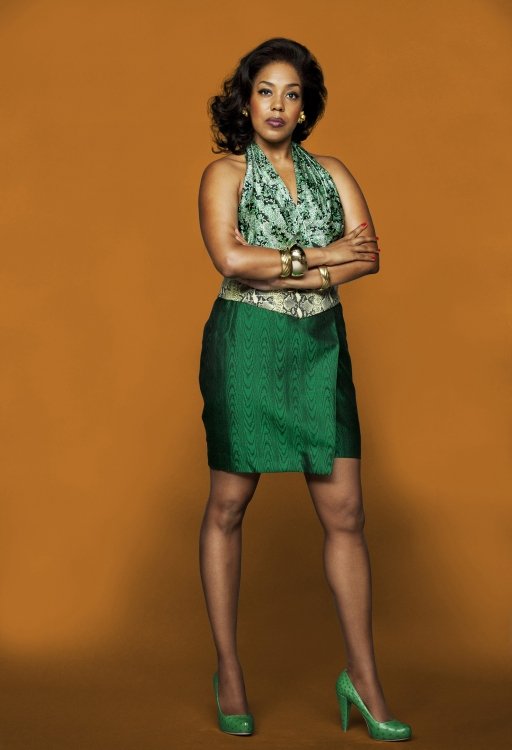 It doesn't take long to understand De'Adre Aziza. She's a chameleon—a strutting, blues-belting chameleon who channels the deep-rooted, soulful vocals of folk singer Odetta and the sultry Nina Simone in "A Night With Janis Joplin," written and directed by Randy Johnson and choreographed by Patricia Wilcox.
The Joplin of legend lived hard and died young, having succumbed to an overdose at the age of 27. "A Night With Janis Joplin" has the impressive Mary Bridget Davies in the lead role, and her spot-on interpretation of the late rocker is almost eerie.
The sad facts surrounding Joplin's life are verifiable, but few know that her husky sound was shaped because of her passion for African-American music and the women who expressed their melancholy in song. This revelation in Johnson's production makes a fascinating, comforting and blissfully uncomplicated theatrical experience. When in doubt, you can almost hear the spirit of these singers saying, "Just sing out your lust, joy and pain; just sing the blues."
Aziza bristles with originality and feeling, creating the seamless illusion that time has been turned back. So I reached out to Aziza, and here's what she had to share.
Amsterdam News: The expression that "Black don't crack" has to be amended. Let's go with "Black doesn't even crease." Honestly, based on the nuances in your performance, I was expecting a more seasoned thespian. What are you, like sweet 21?
De'Adre Aziza: OMG, you're crazy, but thank you. I'm a bit older than 21 but not much (wink).
AmNews: Where did you grow up?
DA: Teaneck, N.J., but I feel like I'm a Harlem girl. My grandmother was a well-known community member in Harlem and a strong vocalist in her church choir. Of course, too, I grew up reading the Amsterdam News. It was always in the house, along with Essence, Ebony and Jet.
AmNews: Sweet! Did you grow up knowing that you wanted to be a actress?
DA: Absolutely not. That desire came to me in my early teens.
AmNews: Could you always sing? Did you train? Mama, you can wail! You transform into Odetta and Nina Simone. It's so great to watch.
DA: (Laughing) Thanks. Well, I took classical piano at age 4, and I grew up with a lot of music in my consciousness, especially in Harlem. I was also exposed to African drumming. To learn, I'd listen to albums over and over again. Along the way, I just fell in love with live performance.
AmNews: You were nominated for a Tony for "Passing Strange." What's it like being back on the Great White Way? A nomination is nothing to sneeze at!
DA: Absolutely wonderful. Theater is transformative. When my son was 2 years old, I took him to see "The Lion King," and he watched the entire show without making a sound. On our way home, he turned to ask when he could see it again and proceeded to tell me about the story elements and sing the songs. That's when I truly discovered the power that theater can have over a person.