'Avonte's Law' supported by Attorney General Eric Holder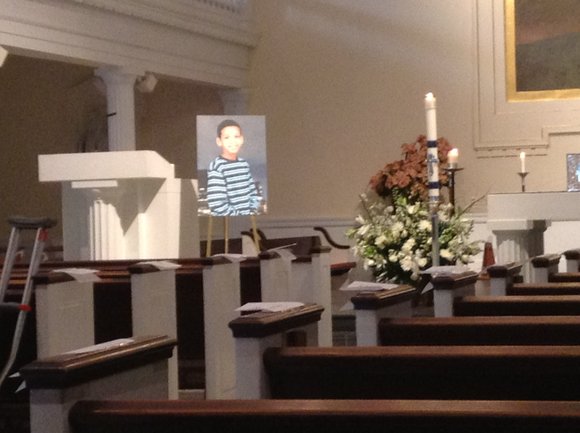 Last Saturday, Avonte Oquendo, the 14-year-old mute autistic boy who captured the heart of the tristate area, was funeralized. On Wednesday, Jan. 29, Attorney General Eric Holder threw his support behind Sen. Chuck Schumer's proposed "Avonte's Law." Holder said that the Department of Justice (DOJ) would support a similar program, that would have tracking devices given to autistic children known to be "runners."
Avonte used to run off, his father, Daniel Oquendo, told the AmNews. "This is not a new idea, but anything that could help is useful."
After a private family gathering at a Greenwich funeral home, the public church service at St. Joseph's Catholic Church paid wonderful tribute to a young boy whose short life served to create an interstate show of unity. From Oct. 4—the day he was last seen when he ran out of his Center Boulevard school in Long Island City—to the first discovery of remains in College Point on Jan. 9, thousands upon thousands of people actively engaged in a citywide search. Everyday people joined in searching along with police, the MTA and professional search and various rescue organizations and individuals, such as Donnell Nichols' C41 Group and Texas EquuSearch.
The church was packed. Cardinal Edward Egan presided over the service. Perhaps surprisingly, aside from the priests, the only other person to speak was David Perecman, the now well-known lawyer who is suing the city on behalf of the family. Among other issues, he determined that the way children are secured in schools must be better.
Within the standing-room-only congregation were many detectives with their badges on full display, plus undercover officers. The cause of death has not been yet released by the medical examiner, and the NYPD has said that the investigation is ongoing.
As snow settled on the already iced up streets outside the ornate St. Joseph's church, folks stayed mainly in their heavy coats. Many cried silently, participated solemnly in the mass and sighed heavily at intervals, almost as if to prevent a more audible display of the pervasive pain. As Egan eulogized and spoke of Avonte's courage as he lived with his condition, a large photo of the bright-eyed young boy surveyed the full pews and the ivory casket brought in by his father and brothers.
Reports state that Avonte was cremated after the funeral.
The day after the family and the tristate area said goodbye to the youngster who put the issue of autism on the front page in most media outlets, Schumer embraced Avonte's mother, Vanessa Fontaine, and announced "Avonte's Law," which will create and fund a program where parents of children who have Autism Spectrum Disorder can choose to have tracking devices placed on their children through "non-tampering wristwatches, anklets or clipped onto belt loops or onto shoelaces" or even sewn into clothes. Schumer then announced that the DOJ has agreed to extend a similar program of its own and allow existing grant funds to be used to fund voluntary tracking devices through local law enforcement agencies for children who have autism or other developmental disorders in which "bolting" from parents or caregivers is common.