NYC Gay Pride Parade 2014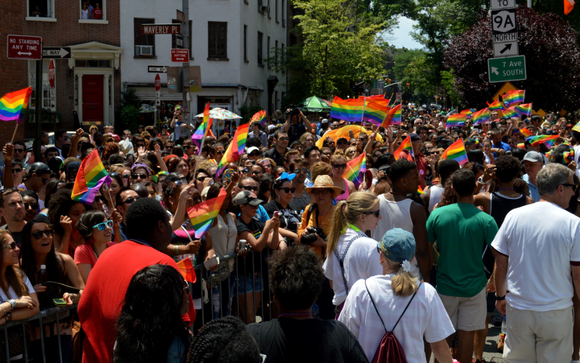 The streets of downtown New York City were flooded with rainbow flags yesterday as New Yorkers celebrated gay pride. Lesbians, gays, bisexuals, transponders, queer people and their supporters marched in honor of another year of progress for the gay community.
The parade started at noon on 36th Street and Fifth Avenue and headed south to Greenwich and Christopher streets at the Stonewall Inn.
This June 29th marked the 45th anniversary of the Stonewall Inn Riots when a group of gay New Yorkers stood up against raiding police officers at The Stonewall Inn, a popular gay bar in the city. This event is credited as the beginning of modern gay rights movement in 1969.
Gov. Andrew M. Cuomo used the parade as an opportunity to introduce an AIDS and HIV awareness initiative. Approximately 3,000 people in New York are diagnosed with HIV every year and the initiative is meant to lessen the spread of the disease by 2020. State officials said Cuomo's plan could cut that number to 750.
"I'm so proud to be the governor of the state that passed marriage equality," Cuomo said. "So there's a lot of pride in being a New Yorker in the Pride Parade."
Mayor Bill de Blasio, U.S. Sen. Charles Schumer, New York City Comptroller Scott Stringer, Manhattan Borough President Gail Brewer and city Public Advocate Letitia James also walked in the parade Sunday.