Reparations paid to Central Park Five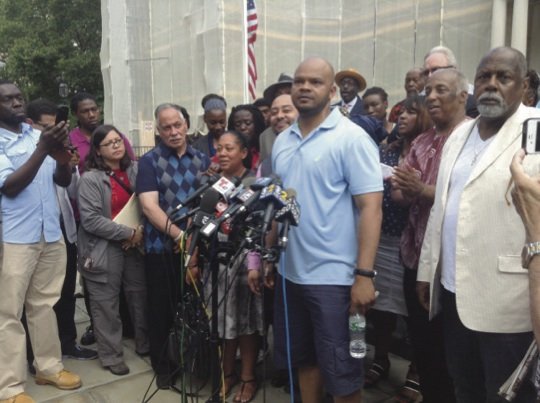 New York City Mayor Bill de Blasio finally made good on his campaign promise concerning the "Central Park Five." The city officially settled the case brought by the five innocent young Black and Latino men who were railroaded 25 years ago in the infamous Central Park jogger case. The $41 million settlement will be awarded after the pro forma signing of the document by federal Judge Deborah Batts. Attorney Jonathan Moore stated they should receive the funds within two weeks.
"Bittersweet" is how Aisha Salaam, sister of Yusef Salaam, described the feeling to the AmNews.
Raymond Santana, Kevin Richardson, Antron McCray, Yusuf Salaam and Kharey Wise ranged from 14 to 16 years old at the time of the attack of 28-year-old investment banker Trisha Meili. They were falsely accused and convicted and served seven to 13 years for a crime some say the city prosecutors knew they did not commit.
There was a panoramic display of emotion and people outside City Hall when the Central Park Five, their families and their lawyers held a press conference last Friday, June 27. The plaza was packed with supporters, activists, a couple of politicos, curious bystanders and journalists from clear across the media spectrum, pushing and shoving, eager to get the key sound bite.
Santana, Richardson and Yusef Salaam stood on the City Hall steps, accompanied by their families, longtime supporters and lawyers. Wise had a previous engagement and McCray lives out-of-state and was unable to attend.
Attorney Roger Wareham, one of the Central Park Five's lawyers, compared the case to that of the Scottsboro Boys and Emmett Till and spoke of the "river of racism that flows through this country."
There was heart-wrenching testimony from the families of Salaam, Richardson and Santana.There were painful tears from Richardson as he talked about all the suffering he had been through. His emotions were so riveting that numerous hardcore supporters standing with him were driven to free-flowing tears.
"People called us animals, wolf pack," said Richardson. "I have four sisters and a mother; I would never do anything to a woman. I was raised better than that. It still hurts me emotionally. Now it feels great to have a voice, because in '89 we didn't have one. All we wanted to tell y'all is that we didn't do it. We just wanted to put an end to this chapter.
"Y'all tried to dehumanize us as human beings, but we're still here. We're strong," he added.
Richardson announced, "There's no amount of money on earth that will restore our youth; we lost those years. We see ourselves speaking through the youth; we see ourselves through them. That's how we relive our youthfulness."
Salaam's mother, Sharonne Salaam, delivered a thunderous testimony, booming, "I have no victory … I am still covered in the shame that has been put upon me by this case. I am defeated in this country, I'm defeated in this system and I'm defeated in this world. The shame that I felt when I walked into that police precinct 25 years ago, when I encountered Linda Fairstein and Elizabeth Lederer and the rest—I am still insulted."