Reparations paid to Central Park Five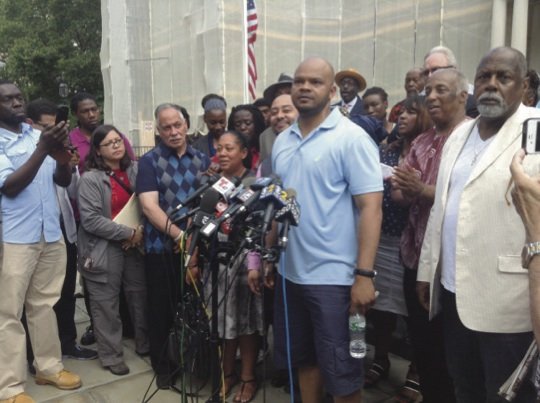 New York City Mayor Bill de Blasio finally made good on his campaign promise concerning the "Central Park Five." The city officially settled the case brought by the five innocent young Black and Latino men who were railroaded 25 years ago in the infamous Central Park jogger case. The $41 million settlement will be awarded after the pro forma signing of the document by federal Judge Deborah Batts. Attorney Jonathan Moore stated they should receive the funds within two weeks.
"Bittersweet" is how Aisha Salaam, sister of Yusef Salaam, described the feeling to the AmNews.
Raymond Santana, Kevin Richardson, Antron McCray, Yusuf Salaam and Kharey Wise ranged from 14 to 16 years old at the time of the attack of 28-year-old investment banker Trisha Meili. They were falsely accused and convicted and served seven to 13 years for a crime some say the city prosecutors knew they did not commit.
There was a panoramic display of emotion and people outside City Hall when the Central Park Five, their families and their lawyers held a press conference last Friday, June 27. The plaza was packed with supporters, activists, a couple of politicos, curious bystanders and journalists from clear across the media spectrum, pushing and shoving, eager to get the key sound bite.
Santana, Richardson and Yusef Salaam stood on the City Hall steps, accompanied by their families, longtime supporters and lawyers. Wise had a previous engagement and McCray lives out-of-state and was unable to attend.
Attorney Roger Wareham, one of the Central Park Five's lawyers, compared the case to that of the Scottsboro Boys and Emmett Till and spoke of the "river of racism that flows through this country."
There was heart-wrenching testimony from the families of Salaam, Richardson and Santana.There were painful tears from Richardson as he talked about all the suffering he had been through. His emotions were so riveting that numerous hardcore supporters standing with him were driven to free-flowing tears.
"People called us animals, wolf pack," said Richardson. "I have four sisters and a mother; I would never do anything to a woman. I was raised better than that. It still hurts me emotionally. Now it feels great to have a voice, because in '89 we didn't have one. All we wanted to tell y'all is that we didn't do it. We just wanted to put an end to this chapter.
"Y'all tried to dehumanize us as human beings, but we're still here. We're strong," he added.
Richardson announced, "There's no amount of money on earth that will restore our youth; we lost those years. We see ourselves speaking through the youth; we see ourselves through them. That's how we relive our youthfulness."
Salaam's mother, Sharonne Salaam, delivered a thunderous testimony, booming, "I have no victory … I am still covered in the shame that has been put upon me by this case. I am defeated in this country, I'm defeated in this system and I'm defeated in this world. The shame that I felt when I walked into that police precinct 25 years ago, when I encountered Linda Fairstein and Elizabeth Lederer and the rest—I am still insulted."
Some of the journalists shifted uncomfortably as she slammed the role much of the mainstream press played in setting such a vitriolic atmosphere, which had the five boys condemned before any investigation even took place.
"It's unbelievable the injustice that we suffered throughout all these years and that we continue to suffer until today," boomed Santana. "The Donald Trumps, the Ann Coulters, the bloggers who still say that we're guilty ... they just can't let it go. We're innocent. What more do you need? What more do we have to prove?"
Reminiscing bitterly that he was just 14 years old when he was arrested, Santana stated, "My childhood was taken from me, the ability to become a productive man in society was taken. Instead, you gave me prison life, and this is what I come back with—the aggression."
He added that he is in the struggle to fight similar injustices and is working with groups like the Innocence Project. He said, "I wake up this morning still wanting to put the gloves on and still wanting to fight."
He challenged the journalists and everyone else present to call for an opening of all the documents pertaining to the case to expose the blatant judicial and prosecutorial misconduct.
Trump was hammered by various speakers, who slayed him for the full-page ads he put in the New York press in 1989 calling for the death penalty.
"He wants to kill innocent youth through the death penalty," said Santana's sister Joanne. She mentioned the devastating effect the case has had on her brother and their entire family, noting that despite the current resolution, there were still those like Trump who continued to accuse and attack her brother. "[Trump is] still angry and spewing against us," she declared. "There is a lot of anger and hate."
"I wonder what Donald Trump would have done had that been his white child," challenged Sharonne Salaam.
While celebrating the fact that the city is finally paying the five men—even though no liability is attached to the settlement—Central Park Five attorney Michael Tarif Warren told the Amsterdam News, "The move now should be about disbarment of the prosecutors in the case: Fairstein and Lederer. As it is now the settlement, [that] means that none of the parties being sued are being held liable. Sure, this is the largest settlement that the city has ever agreed to pay for a wrongful conviction case, and even though the language of the settlement agreement doesn't specifically indicate that anyone is liable, the size of the settlement is indicative of the fact that the city is acknowledging that a great injustice occurred."
Warren, who worked on the case for over a decade, is adamant that community pressure can lead to a righteous action against the prosecutors in this case. "The people should demand the disbarment of Lederer and Fairstein, because they both most definitely still have their license, and real justice determines that they should not."
The AmNews reached out to Alice McGullion, the public relations representative for Fairstein and Lederer, but did not get a response by press time.
With great gusto, the very day after the heated uptown congressional race, in which Scott Stringer stood with the defeated challenger Adriano Espaillat (Charlie Rangel won), the New York City comptroller announced that he had officially signed off on a settlement of $41 million to the five men.
"It is a beautiful day," said Yusef Salaam, with a calm demeanor. Yusef Salaam told the AmNews that it was never about the money at all. The case put them in the spotlight and gave them a cause to fight for. "So now we stay in the fight. We aren't going anywhere. Yes, they stole our youth, and now we are committed to helping others who have been abused by the criminal injustice system."
Completely exonerated of the horrific 1989 assault on Meili, Stringer told the AmNews, "I am announcing today that I have approved the proposed settlement in the Central Park Five case. In my judgment, this settlement is a prudent and equitable solution for all parties to the lawsuit and closes a very difficult chapter in our city's history. I would like to commend New York City's Law Department for their extensive efforts in reaching this settlement."
Wareham said at the press conference, "This case should have been settled 11 years ago when we filed it. None of the issues have changed. The difference is the political climate has changed. The reason that the political climate has changed is because of the people you see behind me. Because they never gave up on this issue. They understood who these young men were. They understood who their families were and are. And that they represent all of us.
In 1989, the five teenage boys were victimized by former District Attorney Fairstein and police interrogators. Grilled for hours without an attorney, they said that they were frightened and manipulated, as the media introduced them to the people of New York as a "wolf pack gone wilding" that raped Meili as she jogged through the park on the night of April 19, 1989.
In 2002, convicted serial rapist Matias Reyes confessed to the rape, and his was the only DNA found at the scene. In December 2002, all five were exonerated. 
Longtime supporter of and fighter for the five men state Sen. Bill Perkins exclaimed, "It is time to take the next step of ensuring the total system failure that allows police and prosecutors to coerce confessions never happens again. To do so, we must pass Senate Bill 1267, legislation that requires the video taping of entire interrogations of all felony investigations. The case of the Central Park Five, the illegal and unethical, immoral and despicable behavior exhibited by the police and prosecutors, never saw the light of day in a court room. And absent this scrutiny, a cataclysmic injustice occurred."
Wareham concluded, "The settlement brings a degree of closure for the guys and their families. But the struggle to expose and stop the racist police and prosecutorial misconduct, which led to their interrogations, arrests, trials, convictions, sentences and continued demonization, must escalate."