Dave Valentine, Jazz Forum at 35, JALC's Family Swing
7/10/2014, 3:48 p.m.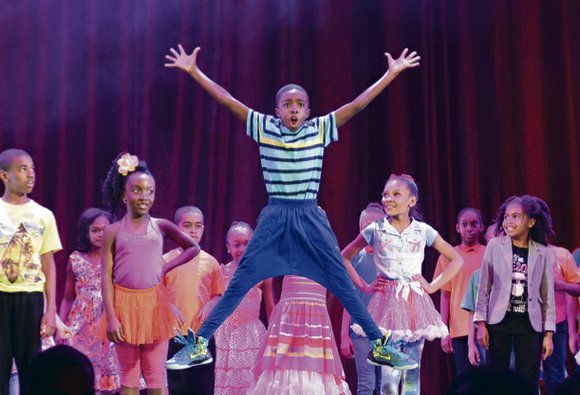 The sound of jazz was percolating in Washington Heights recently when Jazz at Lincoln Center partnered with the Harlem Children's Zone to present Uptown Family Swing, a free community concert featuring the Jazz at Lincoln Center Orchestra with Wynton Marsalis and Mr. Aubrey's Show Kids.
The magnificent United Palace Theatre (formerly known as the United Church Science of Living Institute under the evangel direction of the Rev. Frederick J. Eikerenkoetter II, known as "Rev. Ike," who restored the building) was filled with young children, families and friends in attendance to see their children performing to the live music of the Jazz at Lincoln Center Orchestra.
A group of 100 students aged 8­­­­–17 performed in this extravaganza that featured the music of Duke Ellington and the story of "Jazzland" conceived, written, directed and choreographed by Aubrey Lynch II. The Jazz Ambassadors of the U.S. Army Field Band, the official touring big band of the United States Army that was formed in 1969, opened the show.
In "Jazzland," anything is possible—it's where Duke Ellington's music comes alive. The characters included Little Duke, Queen Madame Ella and Demon Dream Thief. There were singers, tap dancers and lots of dancing from the youngsters, who were wearing terrific costumes that kept the young audience and parents dancing on the edge of their seats. "I liked everything, the music and the dancing. My little brother was good too," said a young student.
The student performers came from a variety of schools, including Booker T. Washington Middle School, the Ailey School: Junior Division, Dance Theatre of Harlem, Wadleigh Secondary School for the Performing Arts, John V. Lindsay Wildcat and Northside Center for Child Development. "Many people don't know that jazz is a catalyst to other music," stated Bronx resident Gary Dobson.
Lynch, the artistic director and founder, believes the arts are not extracurricular but "extra-essential." As a former dancer with Alvin Ailey Dance Theater and former associate producer of Disney's "The Lion King," he has experienced the life changing power of the arts and the unique way they present lessons necessary for success.
"This performance was very good because it introduces kids to jazz," said Mary Johnson, a parent. Let's hope partnerships like this become more familiar throughout all the boroughs on a regular basis.