DC 37, de Blasio agree to tentative deal
Union Matters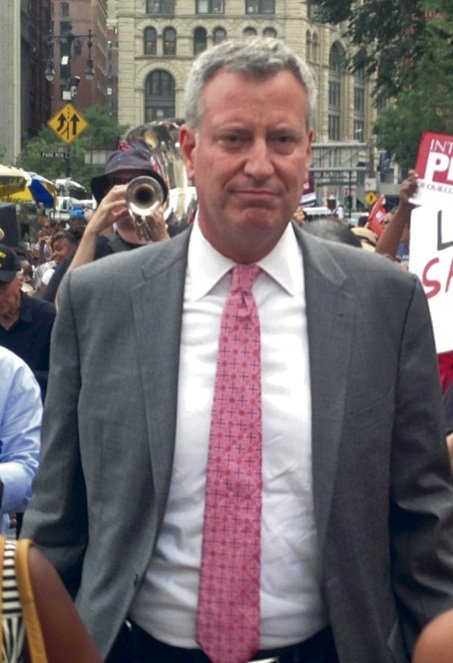 Looks like another public sector union has shored up their future under the mayor. Last week, New York City Mayor Bill de Blasio and District Council 37 reached a tentative agreement for a new contract that would include back pay, a wage increase and other resources.
The new seven-year, four-month wage pact provides a total of 10.41 percent in wage hikes, plus a $1,000 ratification bonus and back pay. The new agreement also includes access to additional resources to address union-specific issues. The deal covers March 3, 2010, to July 2, 2017.
"With this agreement, we will finally be providing a contract to hardworking New Yorkers, to workers who have been without a contract since 2010," said de Blasio during last week's news conference. "Four long years, people we depend on every day in this city have been waiting for a contract; we're finally now about to have one. Now, we all know there's a ratification process, and that process has to be followed through, but we've come to an agreement that we feel is very strong, very well-thought-out and one that we think will find great favor with the members of this union."
DC 37 Executive Director Lillian Roberts expressed relief that her members finally had a contract to pour over.
"We achieved a contract that provides wage increases, a signing bonus, back pay and an historic measure to strengthen the civil service system and opportunities for minorities and women," said Roberts in a statement. "With this contract, we have achieved sound, livable wage increases for our members and protected our benefits, with no changes in our health care coverage and pension plans."
As part of the agreement, the city and the union agreed to establish something called the Joint Recruitment and Promotion Study Committee, which would have the responsibility of making recommendations on ways of increasing the recruitment, retention and promotional opportunities for minorities and women in DC 37-represented titles.
"DC 37 members are the glue that holds this city together, from librarians and custodial assistants, to civil engineers and police administrative aides," said de Blasio. "This landmark agreement marks another step toward restoring a productive and respectful dynamic between the city and its employees, while confirming a fiscally responsible pattern for this group of employees that have been without a contract since 2010."
The deal includes an agreement between the city and DC 37 to continue to identify and recommend initiatives that could generate workplace savings and maximize workforce potential.
De Blasio and City Hall have concluded that the total cost of the tentative agreement is covered by the pattern the administration established with the United Federation of Teachers contract. According to the city, the out-year budget gaps remain at "manageable" levels that are below historical averages. The city says that the cost of the agreement for fiscal years 2014 to 2018 financial plan includes $1.75 billion in gross cost, $795 million in health savings and a net cost of $955 million.  
"It follows and conforms to the pattern that we set in our previous labor agreements, starting with the one we struck with the United Federation of Teachers," said de Blasio. "It's consistent with our budgetary projections as a city, and this pattern that has been very consistent so far in all of our dealings with labor will form the basis for the contracts yet to be negotiated."