Picture the Homeless Honors Frances Goldin
Ashley Richardson | 7/10/2014, 2:33 p.m.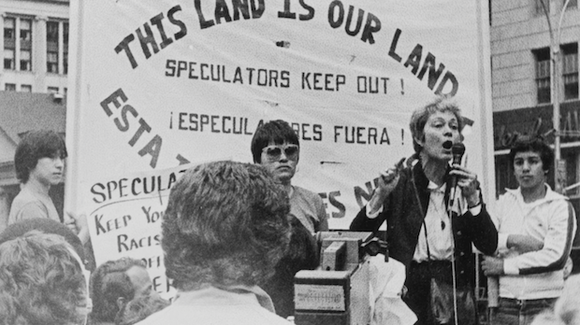 Multiracial, bilingual and citywide organization, Picture the Homeless, will be honoring 90-year-old activist Frances Goldin at its 15th Anniversary Gala. She has dedicated 53 years to bettering New York City.
Goldin, the last surviving co-founder of the Cooper Square Committee, an organization which aims to preserve and develop affordable housing and public cultural space in Cooper Square, spent decades fighting to establish cooperative housing.
According to a press release, in 1981, Goldin knocked on the door of a 20-year-old Lynn Lewis and her 3-day-old baby living in the slums of Cooper Square to deliver a message: "You're going to live like this the rest of your life if you don't come to this meeting!" Lynn Lewis attended a Picture the Homeless meeting four days later and went on to become the executive director of the organization. The press release emphasizes that Goldin's motivation and leadership has been an inspiration to the organization since its beginning.
Goldin's story and influence is historic not only as a shocking 50-year long battle but as an affordable housing model that has implemented a stable structure for cheap and sustainable property in New York City. As of 2012, the implemented housing co-op allowed tenants to buy their apartments or "shares" for as little as $250 per unit.
Picture the Homeless believes Goldin's 53 years of activism has made New York City a better place for everyone. The 15th Anniversary Gala will be held at the NYC Fire Museum on 278 Spring Street from 6:00 to 10:00 p.m. on October 23, 2014.