Remembering the Great War
Resorts and Travel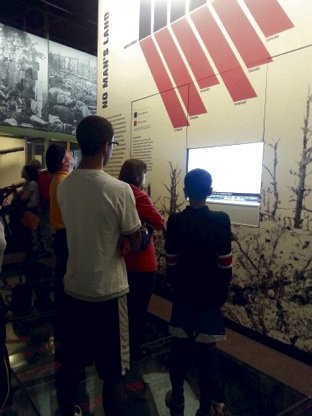 It's hard to fathom—and in some ways it's very disturbing—that in this generation, where Americans have been deep in the throes of numerous global military conflicts, we have also reached the 100th anniversary of World War I. Also known as the "Great War," it raged from 1914 to 1918, with the participation of reportedly over 100 countries, including those in Europe, Asia, Africa, Australia and, of course, America.
In the United States, we were under the command of President Woodrow Wilson when Congress approved our entrance into the war in 1917. When all was said and done, the costs were great for all countries involved—financially, economically, physically and sociologically. The lingering effects—both positive and negative—have been deeply entrenched in the history and psyche of this country in the century that has followed.
CAPTURING HISTORY
There are numerous historical sites, organizations and the like, both here and abroad, that impart their own particular perspectives and accounts of WWI. But the best—and the only museum in America dedicated solely to honoring those who served in the Great War and preserving the history, objects and personal experiences related to it—is the National World War I Museum at Liberty Memorial.
The location of the museum itself, in Kansas City, Mo., is one of its most unique aspects, as one might think that a memorial for such a momentous global conflict might have been placed in a more highly visible city, like Washington D.C., for example. But that is part of the allure and story.
Kansas Citians were so deeply involved in the war efforts in a variety of ways that a mere two weeks after the Armistice on Nov. 11, 1918, they embarked upon a memorial campaign and the next year engaged in an unprecedented, community-based fundraising drive that in less than two weeks raised more than $2.5 million. That's quite a feat in the early 1900s and a testament to the importance of the memorial for its citizens.
On Armistice Day in 1926, the Liberty Memorial opened its doors for the first time, and subsequent restorations—the latest completed in 2006—since that time have earned it designations as one of Kansas City's iconic landmarks, by Congress as the National World War I Museum and as a National Historic Landmark. Since it opened, more than 1 million people have walked through its hallowed halls, including several current and former political dignitaries, including President Barack Obama, Vice President Dick Cheney, Sen. John McCain and Gen. Colin Powell, among others. And it continues to draw increasingly more worldwide attention, particularly during this WWI centennial year.
One of the most distinguishing features here is the architecture, the museum being built in the Egyptian Revival style and encompassing several distinctive entities. The main museum building whisks you away to another place and time at the entrance, where visitors encounter a dramatic glass bridge stretched over a field of 9,000 red poppies, each representing 1,000 combatant fatalities. And if you do the math, you'll immediately grasp the gravity of it all–that's 9 million fighting participants, plus an estimated 4 million to 5 million civilians deaths—all in the span of four short years.