SoHarlem: Local Artisan Making a Difference
Michelle Thompson | 7/15/2014, 3:48 p.m.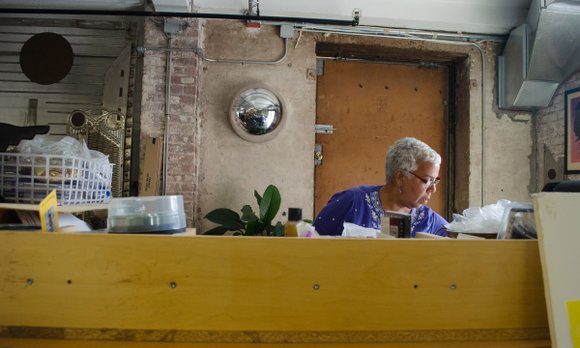 Janet Rodriguez wanted to find a way to combine her interests: the arts and philanthropy. So she founded SoHarlem, a community-based art space on Amsterdam Avenue between West 126th and West 127 Streets. But she also had a bigger mission. "I saw the need for getting unemployed artisans to work in Harlem," says Rodriguez, who worked in public, private, and corporate philanthropy for two decades.
SoHarlem gives Harlemites the opportunity to learn valuable skills from master artisans. Located in a sweeping showroom loft in the Mink Building, renovated in 2012 by the Janus Property Company, SoHarlem provides space for artisans to work and to train others to create clothing, fashion accessories, and home décor. Harlem's artists have a place to create beauty through items ranging from picture frames to tables, clothing to bandeaux for hair.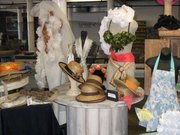 Gladys Rosa Perez, who makes architectural panels for commercial and residential spaces, is a master artisan with SoHarlem. Perez teaches trainees to make picture frames and crochet edges onto handbags, among other skills. "Janet asked me nearly three years ago if I could train women with the Good Hope project how to make mirrors," says Perez. "I love teaching people how to do these things."
Three years ago, Rodriguez invited artisans to share their knowledge with people including women who were recently incarcerated and high school students who needed a skill. SoHarlem initially trained women who had just left the prison system, but cuts to state and government funding made it hard for the women to find enough money for housing and childcare while in training. Now SoHarlem trains high school students, young adults, and people with disabilities to do this artisanal work.
SoHarlem makes income from selling goods and receives support from several sponsors that provide materials and contribute money to train the apprentices. Eileen Fisher supports SoHarlem as part of its longstanding commitment to funding women owned businesses. Materials for the Arts collects unneeded items from businesses and individuals and provides them for free to non-profit recipients including SoHarlem.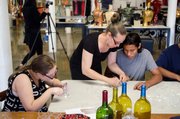 Jacqueline Puello-Raboy, who had a career sewing women's wear, now works with the apprentices to make handbags, ottomans, hair accessories, and even elaborately beautiful bras. Puello-Raboy likes sharing her knowledge with the apprentices and she also benefits from working with Perez and Rodriguez. "We learn from each other," said Puello-Raboy. "I have also learned what it takes to run a business including managing the costs of making the goods and figuring out what the right price is to sell the goods for."
Ultimately, Rodriguez would like to make a difference. "The number of trainees fluctuates," she says, "but we hope to increase the number of participants" to increase the talent of skill pool of Harlem.
Shop SoHarlem Tuesday-Thursday 11 AM to 7 PM, 1361 Amsterdam Avenue Ste 340 or visit the website for a 10 percent discount.