Harlem Book Fair recap
Matt MacVey | 7/17/2014, 9:50 a.m.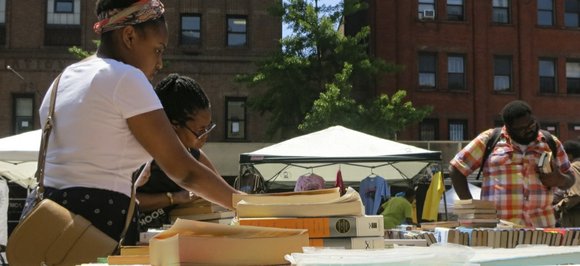 People came together Saturday to celebrate literature in Harlem, debating writing and identity at panel discussions and meeting with authors and publishers at kiosks on the street. The 15th annual Harlem Book Fair brought readers and books together at an outdoor marketplace along West 135th Street between Frederick Douglass Boulevard and Malcolm X Boulevard from 11 a.m. to 6 p.m.
Readings and panel discussions took place all day at the nearby Schomburg Center, Countee Cullen Library and the Harlem YMCA. People also came to discuss James Baldwin at the first annual Harlem Book Fair Fiction Festival, hosted on the Columbia University campus Friday.
The street was closed off, so pedestrians had room to peruse the more than 100 booths lining the street selling clothing, seafood, halal food and books. Readers saw the breadth of the literary scene, and some found new books to take home. Aarin Williams came from Newark, N.J., for the fair and appreciated that it draws a much larger crowd than some other literary events. Williams picked up a used copy of a W. E. B. Du Bois reader for $3. "I like the smell of old books," said Williams.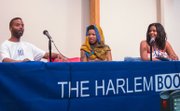 Sherman Toppin, there to promote his first book, was only able to get a booth as a last-minute addition after another author failed to show up. Toppin was glad to meet readers and other authors. "Each author has tips for you," he said. "I learned a lot of grassroots things." He is promoting his motivational book, "Finishing on Top," through giveaways on goodreads.com. "Everyone I talked to was a reader," he continued. "They want a human being, not a sales pitcher."
Many exhibitors have made the book fair a tradition. This year was author Michel Moore's (twitter.com/DetroitAuthor) sixth year at the fair. Moore's family made the trip with her from Detroit to help out at the booth. Moore's daughter T. C. Littles (www.tclittles.com) is also an author, and both mother and daughter have been on the Essence magazine bestseller list. Moore believes it is important to have readers put a face to a name, even with an increasing number of them shopping for books online. "You still got to show up," said Moore.
This year, the book fair added the Fiction Festival for the first time. The festival was held all day Friday in conjunction with faculty from the Columbia University School of the Arts on the Columbia University campus. One panel brought together authors from the African
diaspora in the Caribbean, and many focused on the work of James Baldwin. Those discussions were part of the "Year of Baldwin" that will commemorate and reflect upon the author through many events across New York City. Rich Blint, a professor at Columbia, played a big part in organizing the "Year of Baldwin" and the Fiction Festival. "The singular urgency and clarity of Baldwin's decades-long insistence on identifying and holding up for analysis all the ways in which we court our own devastation makes him particularly relevant now," said Blint.