Jazzmobile at 50, Locke at Dizzy's, Bronx Music, Tolliver at Cell
Ron Scott | 7/17/2014, 2:31 p.m.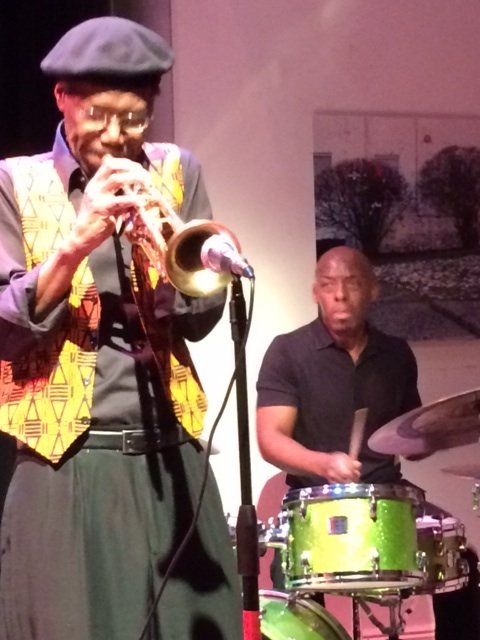 New York City jazz fans know it's summer when they notice the birds flapping their wings over Harlem, grooving to the Summerfest Jazzmobile running full steam from July to August.
Jazzmobile offers the best jazz in Gotham, and these free concerts have introduced thousands of folks to jazz. On July 18, Harlem's own vocal stylist Melba Joyce will grace the flatbed stage in Marcus Garvey Park (Mt. Morris Park West/122nd Street and Fifth Avenue).
Joyce boasts a strong timbre can hit high notes as well as the gritty blues tones that bring chills. She has performed at the Umbria Jazz Festival in Italy, China and Russia. Whereever she is performing is the place to be.
On July 23, "The Lion" (originally a young lion), Jeremy Pelt, will perform at Grant's Tomb (General Grant National Park/122nd Street and Riverside Drive). The trumpeter-composer continues to introduce compositions that create waves in the jazz pool. His latest release, "Water and Earth" (High Note Records, 2013), represents his goal of moving forward with a fresh momentum.
The saxophonist Yosvany Terry will bring his mix of Afro-Cuban jazz to Marcus Garvey Park on July 25. Terry is a native of Cuba who, since arriving in New York, is absorbing the jazz tradition and building on it using his native rhythms. His music is vibrant with intense colors that stir the music close to the edge.
On July 30, percussionist, drummer, composer and arranger Bobby Sanabria comes to Grant's Tomb. Sanabria, with a stroCng history of Latin music and jazz, has a reputation of marrying the two genres, which assures audiences they will be moving to every beat.
All shows begin at 7 p.m. and will go on unless Mother Nature states otherwise.
July marks the 50th anniversary of Jazzmobile, which was founded in 1964 by Billy Taylor and Daphane Arnstein, who introduced live jazz at no cost to the Harlem community and the surrounding boroughs.
The program was later extended to include Summerfest, lecture demonstrations for public school students, Saturday jazz workshops and vocal competitions.
"As we begin an 18-month celebration of our birth, we look back with pride that it is Jazzmobile who brought Duke Ellington and Count Basie to the streets of Harlem; who during one concert honored the legendary Sarah Vaughan and presented an emerging performer, Wynton Marsalis, with his own group," stated Robin Bell-Stevens, director of Jazzmobile.
For more information, visit jazzmobile.org.
Joe Locke appears at Dizzy's Club Coca-Cola (60th Street and Broadway) tonight through July 20, with two shows nightly at 7:30 p.m. and 9:30 p.m. His abled quartet includes pianist Jim Ridi, bassist Lorin Cohen, drummer Clarence Penn and guest vocalist Kenny Washington.
Locke is the hippest vibraphonist since Cal Tjader, although when it comes to straight-up jazz, Milt Jackson remains the man, along with Bobby Hutchinson and Lionel Hampton, who was the father of the instrument. At this point, Locke may very well be the elder of instrument. Like his predecessors, Locke continues to explore unchartered paths that reflect an adventurous sound with composing skills that shine.