Jazzmobile at 50, Locke at Dizzy's, Bronx Music, Tolliver at Cell
Ron Scott | 7/17/2014, 2:31 p.m.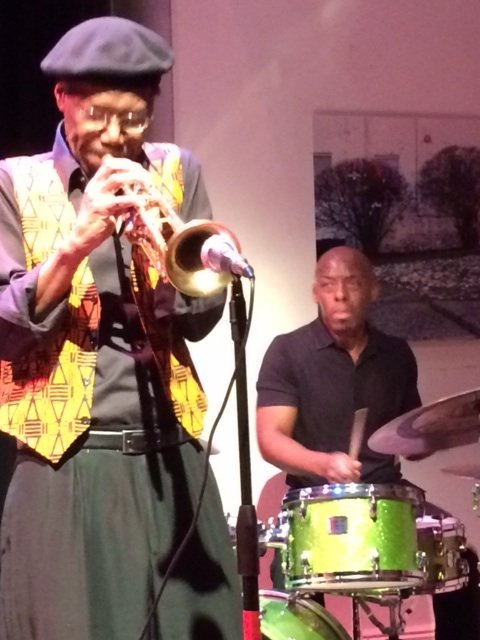 Washington is a real treat. There are not many male singers on today's scene who can touch this vocalist. He has a range from gutsy blues to sweet ballads, scatting and hard swinging. Since he lives on the West Coast, seeing Washington isn't a daily occurrence. Don't miss the opportunity.
For more information, call 212-258-9595.
The Bronx Music Heritage Center (1303 Louis Nine Blvd.) on July 19 will present the Women and Drum Festival 4-8:30 p.m. Come celebrate women and percussive traditions in New York City and Africa. The event is co-produced by the Duke Ellington Center for the Arts.
At 4 p.m., there will be a free screening of the film "Sweet Dreams," about a group of Rwandan women who defy the devastation of genocide to form the country's first all-female drumming troupe and open the country's first ice cream shop. There will be a Q and A with director.
At 6 p.m., there will be a dance and shekere class, led by the Legacy Women Drummers. For more information, visit bronxmusic.org. The center offers an enlightening music schedule of events that are well worth the Bronx trip. They also offer free visual arts and conga classes.
Charles Tolliver, the fearless trumpeter, big band leader and composer, is currently enjoying a run at the Cell as its resident musician. He will be performing at the theater space (338 W. 23rd St.) on July 19 at 8:30 p.m.
The quintet with pianist Teo Hill, guitarist Bruce Edwards, bassist Daven Starks and drummer E.J. Strickland recently returned from a tour of Europe.
Last week, Essiet Essiet sat in on bass with Jonathan Thomas on piano. Despite the substitutions, the intuitive motor ran the course as planned. Essiet is always on par. Improvising is his game, and the young Thomas was ready for the journey.
Since Tolliver organized this group, they have exploded into one of the most exhilarating bands on the scene. They are working like an intuitive locomotive that is always on the right track.
The band's walking solos seem to move into a free mode, but they always meet at the bridge, arriving in the station on the right note, but one would not expect any less from Tolliver, who is well aware of the avant-garde set. A musician known for his big band arrangements and compositions that always take listeners down an unsuspected road.
"We have been working together as a unit for a while now, and I am pleased with our results," said Tolliver. Watching this group's tenacious playing is proof of their noted ability. For information, email info@thecelltheatre.org.
Correction: In reporting the death of Horace Silver, it was stated that only one musician, Sonny Rollins, was alive from the photo "A Great Day in Harlem." However, saxophonist Benny Golson is also alive and well.