Music Brings Life says, 'Heroes donate blood'
Ashley Richardon | 7/17/2014, 12:01 p.m.
The president and founder of Music Brings Life, Kenaan Bristol a.k.a. "Special," doubled as hype man outside the Brooklyn Borough Hall Wednesday, July 2. Storming the stage with backup dancers in tow, he "wound up" his waist in support of blood awareness.
With a Superman "S" in the center of his T-shirt, Bristol's message is simple: Heroes donate blood. "If you donate just one pint of blood, you're saving three lives," said Bristol, reaching out to the audience. "You're actually a hero." The blood drive acquired 45 sign-ups, which was only five people short of the organization's overall goal of 50 donors.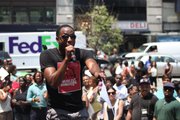 "When I learned about the shortage of blood in the Black, Latino and Caribbean communities, I decided to use my talents and resources to make a difference," said Bristol. "Music is a universal thing and a great way to create awareness."
Music Brings Life, which focuses on educating the Black, Latino and Caribbean communities about the importance of donating blood, uses blood awareness concerts featuring influential artists to create inspiration, gain support and help recruit donors. Wednesday's concert was supported by Jamaican-American reggae artist Shaggy.
"We're involved in a whole heap of charity," said Shaggy backstage, commenting on his appearance at the 2014 "Music Brings Life Blood Awareness" concert. "We help when we can." The reggae artist, who was scheduled to perform in Victoria, BC, Canada the following Friday, July 4, explained that the days just seemed to work out. "There isn't [sic] enough people to give blood and it's a crisis," said Shaggy. "We were called upon to support sickle cell disease and to support this blood drive and we were available."
Outside, hands shot up as Shaggy called out the Caribbean communities. "Where my reggae people at?" he shouted into the microphone. The lulled crowd roared with excitement and pride as flags waved and fists pumped.
"New York could do with a good reggae festival, especially with such large West Indian communities," said Shaggy. "And we've actually talked about producing such an event among ourselves, but I think for today's event, the main thing is that summertime is when blood is given the least."
Stephanie York, American Red Cross account manager of donor services and Recruitment, explained that partnerships with nonprofit organizations, such as Music Brings Life, are particularly important during these seasonal challenges. "Twenty percent of our blood donors are coming from high schools and colleges that are currently on vacation," she said.
Of the 45 sign-ups that came out to the Music Brings Life blood drive, only 23 people's blood were collected because of various blood donation restraints. Although the number may seem small, "Every blood donation can be multiplied by three to see how many people's lives are being directly affected," explained York. "For a summer blood drive, the numbers were good."
Beneath the sweltering summer sun, sweat droplets beaded on the temples of fans as they sang along to familiar lyrics. Shaggy held out the microphone as they chanted, "She call me Mr. Boombastic, say me fantastic!"
"Most people connect blood to a taboo, to violence and death," said Music Brings Life event organizer Prince Forde. "The key is to get people excited, to change the meaning, to make it cool."
Music Brings Life will hold three more concerts during this summer series: July 16, Aug. 13 and, the finale, the 2014 "Five Alarm Blaze Music Brings Life Blood Awareness Concert," Aug. 31. As an incentive, the first 200 people to donate blood at each Music Brings Life blood drive are given free tickets to the Aug. 31 concert.
For more information, visit www.musicbringslife.org.