Taking a 'JUCY' road trip!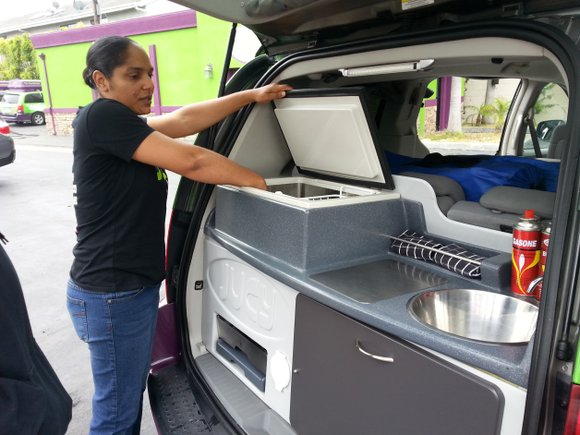 Summer is well on its way, and if you haven't already planned a road trip escape, I have something for you to consider: gettin' JUCY!
A recent entry into the U.S. travel market is JUCY Rentals, a New Zealand-based travel company featuring a fleet of retrofitted camper-vans featuring a 1950s-inspired mascot called "Jucy Lucy." The company's original focus was toward young professionals interested in affordable, "green" ways to attend music festivals, sporting events and the like. However, their popularity has extended far beyond that to extended weekend and family camping trips.
The parent company, the JUCY Group, was established in 2001 by the Alpe family, the patriarch of whom is known as "Mr. Tourism New Zealand." From 35 cars in a small garage in Auckland, the company has burgeoned into a fleet of more than 2,700 cars and camper-vans throughout New Zealand, Australia and the U.S. They say that today more than 200,000 people drive, sleep, cruise and play JUCY annually, making it one of Australasia's (Australia, New Zealand and the island of New Guinea) fastest growing independent tourism companies.
In the words of Jucy CEO Tim Alpe, "New Zealanders are known for their love of the outdoors and their adventure-seeking spirit. But we are convinced that the potential for fun, user-friendly camper vans becoming the vacation vehicle of choice for dynamic young Americans on the go has huge potential. If our first year in the U.S. [starting in 2012] is any indication, the sky is the limit for the Jucy brand in this country."
All of the JUCY vehicles are 2006 or newer Chrysler Town and Country or Dodge Caravan minivans that have been completely transformed to encompass many of the comforts of home, making it fun and easy to travel across the miles.
For preparing meals, you have a dual gas cooker, compressor fridge, cold water and pots and pans, and when it's time to eat, you have both an interior and a folding exterior dining table. And don't worry about bringing along paper plates and the like, as the vehicles are stocked with plates, mugs, cutlery, kitchen utensils and even dish towels.
Renters also have the option of adding on packets of fresh linens, pillows and blankets for the number of travelers, which work great when the interior middle row of seats is easily folded out to make a bed large enough for two adults.
For entertainment, there is a CD player as well as an LCD-TV/DVD player, and there are two very spacious storage bins for all of your stuff … and hidden from view when looking through the windows.
Speaking of windows, all of them are fitted with dark shades that offer privacy when changing clothes or sleeping that roll up and snap during the day or when driving, plus a full-interior curtain that drops down behind the driver and passenger seats.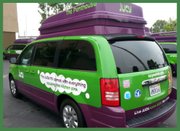 Outside, what looks like your standard car roof storage box is actually "The Penthouse." By simply pushing an interior button, the Penthouse opens at an angle, revealing a roomy two-person (children and/or adults) sleeping compartment with a circular roof fan and screened windows, accessible by a metal ladder that comes down from a hidden compartment between the roof and the bottom of the Penthouse.