Alice Coachman, an immortal Olympian
Amsterdam News in the Classroom
Herb Boyd | 7/24/2014, 12:27 p.m.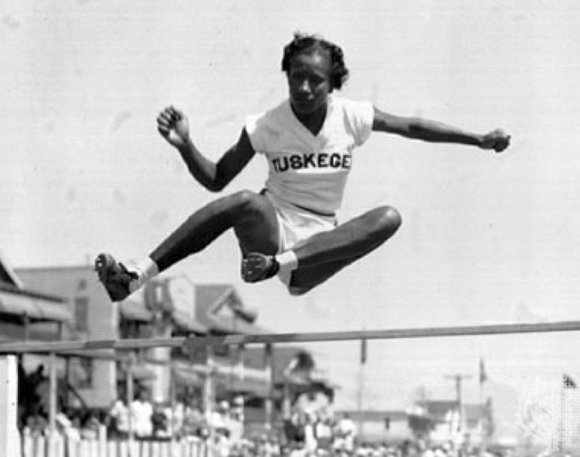 It isn't often that this column is devoted to either the living or the recently departed, but it would be absolutely criminal not to suspend the usual guidelines and give the space to a woman who holds a unique place in African-American history, Alice Coachman.
Never heard of her? Well, there was a time in the 1940s when her name, if not a household one, certainly had meaning in the athletic world. At the 1948 London Summer Olympics Coachman was the first African-American woman to win a gold medal.
Activities
Find out more: Perhaps the most reliable source about Alice Coachman is Coachman herself. Her oral history video excerpts can be found at the National Visionary Leadership Project.
Discussion: It would be highly useful to research and discuss Coachman's pioneering spirit and the prominent athletes, particularly African-American females, who followed through the doors she opened.
Place in context: While there is no direct mention of her participation in the Civil Rights Movement, she, in her own quiet way, hurtled some barriers on her way to fame. Likewise, living in Georgia and attending school in Alabama made it impossible for her to ignore the Jim Crow restrictions.
Though she was capable of competing in a number of events, she bested the field in the high jump, clearing a record height of 5 feet 61/8 inches despite a bad back. King George VI presented her with the medal. Many sports writers and track and field coaches believe she would have won the event at an earlier Olympics. However both the 1940 and the 1944 Olympic Games were cancelled because of World War II.
Born in Albany, Ga., Nov. 9, 1923, Coachman was one of 10 children and grew up at a time when Jim Crow restrictions kept Blacks moored in a second-class citizenship. Furthermore, because of her race, she was barred from using public sports facilities. However, a segregated society merely meant she had to exercise all of her creative ingenuity in perfecting her athletic skills. Even so, it was obviously a daunting experience to be largely restricted from using the equipment and venues available to her White competitors when she was allowed to contest them.
"You had to run up and down the red roads and the dirt roads," she told the Kansas City Star. "You went out there in the fields, where there was a lot of grass and no track. No nothing."
Thanks to encouragement from her teacher Cora Bailey and especially her aunt, Carrie Spry, Coachman was able to circumvent the opposition posed by her parents. Her father wanted her to be more "lady-like," and participating in sports, from his perspective, was for boys. When she enrolled in Madison High School, she went directly to the track team. There, her budding talent was noticed by the coach Harry Lash, who took time to refine it.
Her success at meets drew the attention of scouts from several Black colleges. She was recruited by the Tuskegee Institute, and in 1939, she enrolled in the Institute's high school program. Coachman was eager to compete long before she was officially enrolled in the school and immediately began to establish her prowess in the high jump, winning her first Amateur Athletic Union national championship in the event.