Birthday celebration for two Black Panthers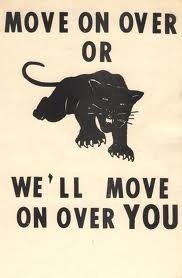 Those who wished to celebrate the birthdays of two modern-day freedom fighters joined the new Black Panther party at the Refral Center in Newark, N.J. The birthday tribute honored Black Panther Party members Assata Shakur and the late M.A. "Smitty" Smith last week.
"We do an annual birthday recognition for our comrades," Zayid Muhammad, a member of the New Black Panther Party, told the AmNews. "This is our way of saying that in spite of the hostility of the state toward our right to freedom, justice and equality, we affirm our right to self-determination, like our two freedom fighters did when they took their two historical and courageous stands."
In 1967, unemployment and poverty caused civil unrest in the community, and when two White Newark policemen arrested and beat a Black cab driver, it ignited a two-day riot, better known as the "Newark Rebellion."
It was during that time that Smith, then a service man returning home from the war, decided to become a Black Panther. He became an important recruiter and trainer of Panthers in New Jersey.
Shakur joined the Black Panther Party in the late 1960s as a college student in New York. On May 2, 1973, Assata Shakur, Sundiata Acoli and Mayday Shakur were pulled over by state troopers on the New Jersey Turnpike. Gunfire was exchanged, leaving Assata Shakur and State Trooper James Harper wounded and their respective colleagues Zayid Shakur (no relation) and Trooper Werner Foerster dead.
Two years later, Assata Shakur escaped prison and fled to Cuba. Shakur is only the second U.S. citizen to be included in the FBI's list of the 10 most wanted terrorists. Meanwhile, her autobiography was republished this month. In the foreword, iconic Black activist Angela Davis described Assata Shakur as a "compassionate human being with an unswerving commitment to justice."