Ebony Escapes! to Santa Monica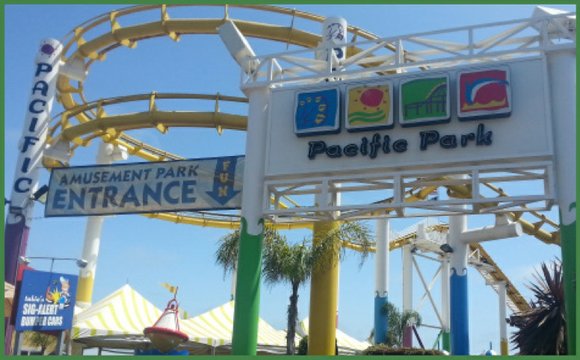 The beaches. An iconic pier. Miles of picturesque bike paths. Beautiful toned Southern California bodies.
These are just some of the images that come to mind when talking about Santa Monica, Calif. And while all of the above ring true, there is more depth to the story of this world-renowned 'burb situated in the big Los Angeles metropolis.
IN THE BEGINNING …
Located eight miles north of Los Angeles International Airport and approximately 13 miles from downtown, the early roots of the City of Santa Monica run deep. Its first inhabitants were the Chumash and Gabrielino Indians, followed by the Spanish led by Conquistador Juan Rodriguez Cabrillo, who arrived in 1542. Santa Monica did not gain its name, however, until more than 200 years later, when it was given by a Franciscan named Father Juan Crespi, who was inspired to name it so after drinking from two cool, free flowing area springs that reminded him of the story of St. Monica, who wept for her errant son.
By the early 1800s, Mexico had taken the reigns and the city soon began to take shape. Many of the names of Santa Monica's expansive boulevards, parks, smaller residential communities and the like found today were derived from Mexico's occupation, coupled with later city founders, who came here from all over the U.S. to take advantage of the growing commercial opportunities.
Today, Santa Monica encompasses eight distinctive residential, dining, culture and entertainment, shopping and outdoor recreation districts spanning a tad over eight walkable, very pedestrian-friendly square miles, giving it a small town flavor and flair.
The topography here is unique, in that the surrounded area is highlighted by soaring mountains, meandering canyons, scenic valleys with rolling hills and, of course, the sparkling Pacific Ocean and beautiful beaches.
And who can argue about the weather! Santa Monica boasts more than 340 sunny days with mild year-round temperatures ranging from the high 40s to the low 70s in the winter then the 60s to the mid-80s in the summer.
When you add all of these elements together, you get a unique, charming, laid-back and welcoming beach culture without many of the Los Angeles-esque trappings and attitudes surrounding fame, fortune and privilege.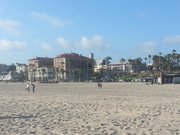 BEAUTY AND ACTIVITIES, 24/7
One of the upshots of possessing such a spectacular setting and location is that many TV shows and big screen movies have used Santa Monica for their scenes and backdrops—a great deal of which take place along the delightful Ocean Front Walk. Here you will find oodles of shops, restaurants, a row of volleyball courts, benches, palm trees and a stone-walled sandbox featuring a concrete Viking ship, peppered all along a wide, paved footpath.
It's all part of the city's very easy to use public transportation system, the Big Blue Bus, which connects Santa Monica with areas all over Los Angeles. For those choosing to explore on two wheels, you will find a plethora of bike rental places on seemingly every corner, including the new Santa Monica Bike Center, reportedly the largest of its kind in the nation.