Community in Outrage over handling of Eric Garner police killing
A.B. NICKERSON | 7/24/2014, 10:48 a.m.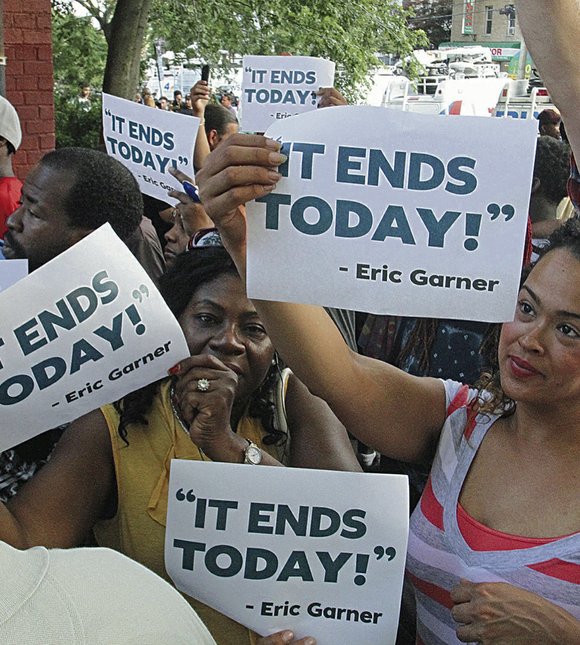 When a white police officer kills an unarmed Black man, as it happened last week on Staten Island, you can expect a furious outrage from one part of the community and an attempt to justify the death from the other side.
It's a no-win situation, especially for Eric Garner, who was manhandled and then taken down in a chokehold last Thursday outside a store in Tompkinsville. According to police, they were called to the scene by shop owners complaining that Garner, 43, a father of six children, was selling loose cigarettes, thereby hindering their sales and profit.
When the undercover officers arrived to apprehend Garner, he tried to explain to them that he had done nothing wrong. You can hear and see him on a video pleading with the officers, who may have at first hesitated handcuffing him until they had backup.
In the meantime, one of the officers, Daniel Pantaleo, eased behind Garner and locked his neck in a chokehold. The two tumbled to the pavement as other officers rushed to hold him down, one of them smashing his head into the cement.
"I can't breathe! I can't breathe!" Garner cries out, but to no avail.
Garner, more than 6 feet tall and weighing more than 300 pounds, and an asthmatic, was finally subdued, his breathing labored.
He was apparently still alive when the EMT workers arrived, but other than feel to see if he still had a pulse, they did nothing to assist him. Garner could have possibly been saved if he had been placed in an upright position, claimed Dr. Cyril Wecht, a noted pathologist. "You want to position him in a way to facilitate breathing," Wecht told the press.
Police Commissioner Bill Bratton, at a press conference last Friday, said that Garner was taken from the scene in an ambulance and died upon arrival at the Staten Island Hospital, a victim of cardiac arrest.
Garner is the latest victim of an apparent chokehold and, according to the Civilian Complaint Review Board, there have been more than a thousand such reports since 2009, but only nine have been substantiated, and only one resulted in punitive measures being ordered.
Those four EMT workers have been placed on modified duty with a suspension of pay.
Two of the NYPD officers are now on desk assignment, with Pantaleo stripped of his badge and gun pending further investigation.
Early reports from the medical examiner indicate that Garner did not suffer any trauma to his trachea or windpipe. Even so, the forcible takedown of a man suffering from obesity, asthma and possibly heart disease could have been enough to induce a heart attack.
Mayor Bill de Blasio, who delayed his trip to Italy by one day, told the press that "we shouldn't jump to conclusions," though the video that can be seen on YouTube shows clearly what happened. Meanwhile, for Bratton to cite Garner's arrest record before offering his condolences seemed inappropriate.
"Even if police procedures don't kick in," said the Rev. Al Sharpton during a sermon last Sunday at Riverside Church, referring to the fact that chokeholds have been outlawed by NYPD since 1982, "when does your sense of humanity kick in? Have we gotten that cold?"
Last Saturday at the National Action Network in Harlem, Sharpton, along with the Rev. Herbert Daughtry and several other elected officials and civil servants, consoled the family, including Garner's wife, Esaw; his mother, Gwen Carr; his sister, Ellisha Flagg; and his daughter, Emerald Garner. Sharpton and Daughtry, joined by Garner's father, led hundreds on a march that afternoon to the site where the encounter occurred.
On Tuesday afternoon, Bratton addressed the press, and he stressed that the investigation of the incident is ongoing and that the "entire NYPD will undergo retraining." That evening, a candlelight vigil was held for the fallen father.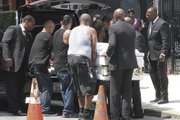 Flagg challenged the marchers to remain vigilant to ensure that the Police Department and the emergency medics be held accountable for the circumstances surrounding Garner's death. Also at the vigil were Councilwoman Debi Rose of Staten Island and other local officials, including Cynthia Davis of the National Action Network, the Rev. Tony Baker of St. Philips Baptist Church and Borough President James Oddo.
In another development, Staten Island branch NAACP President Ed Josey called Garner's death a "modern-day-lynching." He was quoted in news reports as saying, "I'm calling it a modern-day lynching because the man did nothing wrong … You might say the repercussions from this incident have gone nationwide."
"We're going to be vigilant to ensure that justice will be done," said City Council President Melissa Mark-Viverito. "This process must be expedited and transparent."
Councilwoman Vanessa Gibson of the Bronx, chair of the Public Safety Committee, warned, "This is a pivotal moment for our mayor and the community as we seek equality and justice … This is about equality for everyone. This is not just about Staten Island, but this is an issue of humanity."
Assemblyman Democrat Michael Titone remarked that everyone is entitled to "life, liberty and the pursuit of happiness," and that Garner was deprived of those ideals by an "ill-trained, and ill-qualified" department. "Everyone should feel safe in their community," he said.
Bratton said that he and others from the NYPD would be at the funeral services for Garner, which took place Wednesday evening in Brooklyn. We will report on that next week.