Community in Outrage over handling of Eric Garner police killing
A.B. NICKERSON | 7/24/2014, 10:48 a.m.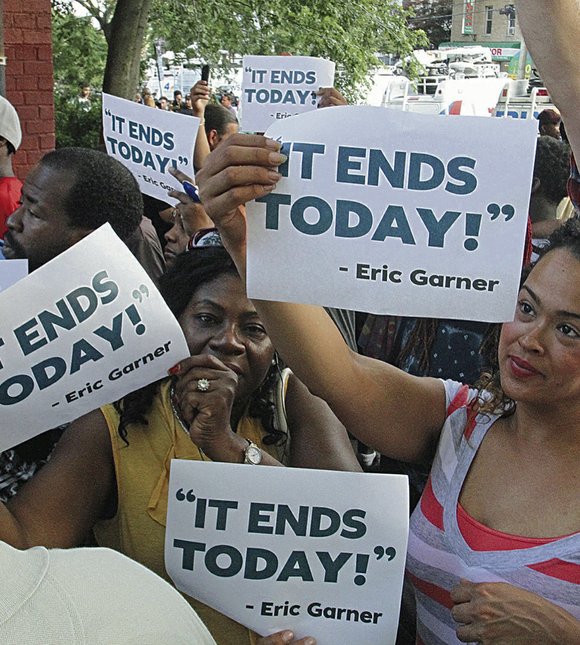 Last Saturday at the National Action Network in Harlem, Sharpton, along with the Rev. Herbert Daughtry and several other elected officials and civil servants, consoled the family, including Garner's wife, Esaw; his mother, Gwen Carr; his sister, Ellisha Flagg; and his daughter, Emerald Garner. Sharpton and Daughtry, joined by Garner's father, led hundreds on a march that afternoon to the site where the encounter occurred.
On Tuesday afternoon, Bratton addressed the press, and he stressed that the investigation of the incident is ongoing and that the "entire NYPD will undergo retraining." That evening, a candlelight vigil was held for the fallen father.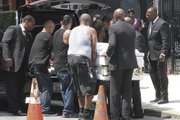 Flagg challenged the marchers to remain vigilant to ensure that the Police Department and the emergency medics be held accountable for the circumstances surrounding Garner's death. Also at the vigil were Councilwoman Debi Rose of Staten Island and other local officials, including Cynthia Davis of the National Action Network, the Rev. Tony Baker of St. Philips Baptist Church and Borough President James Oddo.
In another development, Staten Island branch NAACP President Ed Josey called Garner's death a "modern-day-lynching." He was quoted in news reports as saying, "I'm calling it a modern-day lynching because the man did nothing wrong … You might say the repercussions from this incident have gone nationwide."
"We're going to be vigilant to ensure that justice will be done," said City Council President Melissa Mark-Viverito. "This process must be expedited and transparent."
Councilwoman Vanessa Gibson of the Bronx, chair of the Public Safety Committee, warned, "This is a pivotal moment for our mayor and the community as we seek equality and justice … This is about equality for everyone. This is not just about Staten Island, but this is an issue of humanity."
Assemblyman Democrat Michael Titone remarked that everyone is entitled to "life, liberty and the pursuit of happiness," and that Garner was deprived of those ideals by an "ill-trained, and ill-qualified" department. "Everyone should feel safe in their community," he said.
Bratton said that he and others from the NYPD would be at the funeral services for Garner, which took place Wednesday evening in Brooklyn. We will report on that next week.