Performance as protest: 'Finding Fela' opens August 1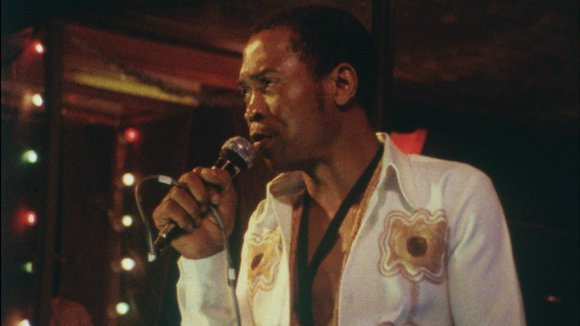 "Finding Fela," a look inside the mesmerizing life of steadfast activist/musician Fela Kuti under award-winning director Alex Gibney's keen cinematic eye, is a joyful adventure that's creatively supported by hypnotic music and skillfully coupled with heart-wrenching politics and personal insight into the life of a man who has become a legend—Fela.
"Finding Fela" is executive produced by New York businessman Stephen Hendel and his wife, Ruth Hendel, who also produced the 2009 Tony Award-winning play "FELA!," directed by McArthur Fellowship-winning choreographer and director Bill T. Jones. Gibney's use of behind-the-scenes footage of the making of the Broadway musical "FELA!" is a stroke of artistic genius.
"Finding Fela" is, just as the film title suggests, a journey of discovery and an appreciation of just how difficult it is to put this man's life on stage, while witnessing an authentic jumble of characters, all of whom share their poignant views and personal stories.
Seun Kuti, 31, the youngest son, who inherited his father's extraordinary Egypt 80 orchestra after his death, provides one of the most riveting and contemporary parts in the film.
Gibney doesn't romanticize Fela's life or flinch from sharing the documented facts surrounding his uncontrollable womanizing in the name of free love, his indifference toward his children and his irresponsibility with sexual health. He died of an AIDS-related illness in 2007.
Gibney achieves that alchemic balance, choosing to use the music to highlight the bravery and conscience of a man who risked his life daily in the face of a brutal Nigerian military that would constantly beat and harass him. Fela is not deified in any way, and no critic can argue that this film is a classic biopic. It isn't like Kevin Macdonald's "Marley" or Martin Scorsese's "The Last Waltz"— it's better. I wouldn't be surprised if it earns a 2015 Oscar like Morgan Neville's euphoric "20 Feet From Stardom."
Gibney's "Finding Fela" speaks eloquently to his constant search for identity. The film handpicks key moments in Fela's life: his decision to reject medicine and study music, listening to James Brown, witnessing the Black Panthers—all of which crystallized his views, enriched his music and paved his path to iconic status.
Music is everywhere and Afrobeat and jazz fans will not walk away unserved. Yes, the politics are raw and urgent—protest as performance; music as weaponry; and a uniting force that cruelty can't extinguish—and the storytelling immensely thoughtful, but it's the sound that will make "Finding Fela" successful.
"Finding Fela" opens in theaters on Aug. 1.