Young teen metal band plans memoir after record deal
Elizabeth Jordannah | 7/24/2014, 12:35 p.m.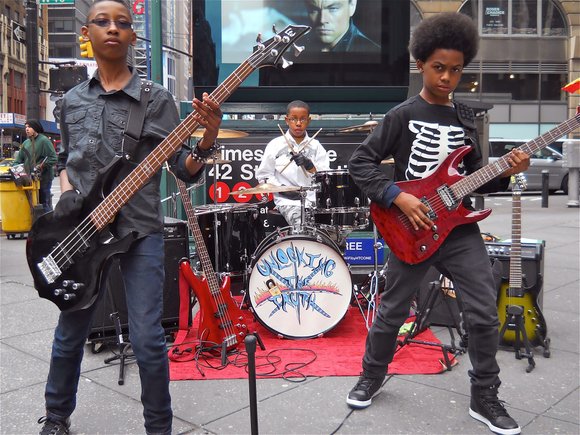 Brooklyn-based metal band Unlocking the Truth has just experienced an achievement that every band dreams of, a two-album record deal with Sony, with an option for three more albums. The deal is worth $1.78 million, a massive deal in an era when the music industry is losing its grip on the increasingly independent music world. The amazing thing about Unlocking the Truth is not only their success but also the fact that the members are in the eighth grade.
The Washington Post reported, "The seven-figure Sony contract was submitted for a Manhattan judge's approval Friday because the musicians are minors. The deal includes 16 to 17 percent in royalties, a fee that's slightly above the industry average." But there is a catch to the deal—the boys will only see the real money after an initial $60,000 advance if their first album sells more than 250,000 copies.
This brilliant band of youngsters, who have performed with such veteran bands as Living Colour and Guns N' Roses, has announced that they are planning to release a memoir next year. It will be interesting to read a book from musicians who are barely 13 years old, because most memoirs span 25 to 60 years. Nonetheless, these young metal rock virtuosos will be penning a book sharing their short trip to stardom.
The upcoming book will be written with Charisse Jones, who co-wrote "Life in Motion," the memoir from American Ballet Theatre soloist Misty Copeland.
Malcolm Brickhouse, 13, Alec Atkins, 13, and drummer Jarad Dawkins, 12, have an incredible future ahead of them. With their record deal, upcoming book and intense touring schedule, the world seems to be laid out in front of them. It's nice to see a trio of young Black males from New York making it big.