Alexandra Shipp to replace Zendaya in Aaliyah Film
Nia Sanders | 7/29/2014, 4:56 p.m.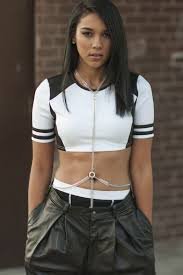 Actress Alexandra Shipp will replace Zendaya in the Lifetime biopic "Aaliyah: Princess of R&B." TV personality Wendy Williams made the announcement on July 18 via Twitter.
"I'm excited to exec produce the Aaliyah @lifetimetv movie with @DebraMChase," Williams wrote. "Prod[uction] starts later this month and @AlexandraShipppp will play Aaliyah."
This decision came weeks after Zendaya, the 17 year-old actress who had her first chart-hitting song-Replay- in 2013, dropped out of production on June 30th after feeling dissatisfied with the way production was going.
"If I'm going to do something for someone I care about so much, I have to do it the right way," Zendaya confirmed to BET during the 2014 BET Awards on June 29th.
The 23 year-old Shipp is best known for her portrayal of KT Rush on the Nickelodeon show "House of Anubis." She has acted in other shows like "Switched at Birth" and the movie "Alvin and the Chipmunks: The Squeakquel." ​