Activists demand: 'Bratton must go!'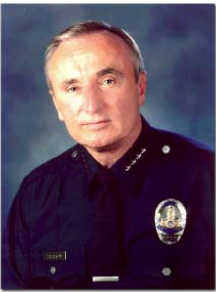 "Brother Eric Garner no longer breathes courtesy of banned NYPD chokehold. Rest in power," said filmmaker Spike Lee on Instagram. As he hosted a 25th anniversary showing of his film, "Do the Right Thing," at Restoration Plaza, Lee presented Alicia Flagg-Leith, sister of Eric Garner, with a huge tarp poster of her brother, with "I can't breath" written on the bottom.
He spoke of the uncanny parallels between the police killing of the character Radio Raheem in his Bed-Stuy-filmed movie and the chokehold death of Brooklynite Garner on Staten Island.
Flagg-Leith said of her brother, "He just didn't deserve to get his life taken like that." In a message to Mayor Bill de Blasio and Police Commissioner Bill Bratton, she said, "You need to evaluate these people. You don't need training how to tell them not to choke someone. Even a kid knows when to stop putting their hands around somebody's neck. People go through stuff every day, so maybe evaluate them once a month, because once every two years is not enough."
To Officer Daniel Pantaleo, who put her brother in the fatal chokehold, she would say, "Whatever problems you had, it was the wrong way to get it out, whatever you were going through. Go talk to someone, because that was the wrong way to outlet your problems by taking someone's life. Someone lost their life, and then you stood there and watched them die like a dog in the street."
Brooklyn Councilwoman Inez Barron did not mince words, saying, "When it was announced that Bratton would become the commissioner of police, I was stunned at the incongruity. While a candidate, de Blasio had made the practice of 'stop-and-frisk' a major issue, yet he was unexplainably bringing the very architect of that policy to head the Police Department. The unspoken message was that New York City would maintain the status quo."
Barron is currently dealing with another video-recorded NYPD chokehold case, this time involving a cop grappling with a seven-months pregnant woman who was imploring him to not make her lose her baby. She continued, "There is a systemic practice within the NYPD that has deadly consequences for Black and Latino people, with the police perpetrators receiving little or no consequences, even when found guilty. How else can you explain that within days of the viral display of the deadly chokehold of Mr. Garner, that at least two new victims were placed in chokeholds by police, who knew they were being videotaped. Their depraved indifference was fueled by the understanding that they could easily bear the consequences, which in the past meant nothing more than a loss of vacation days. Bratton brings a history that has allowed for this culture to exist. It is unacceptable, and Bratton must go."
Mayor for just seven months, de Blasio delayed for a day but decided to go on his nine-day vacation to Italy. In that time, two other video-recorded incidents of alleged excessive force by police occurred. "You don't leave in the middle of a crisis," said Barron. "He should have stayed."