Association of Black Educators of NY celebrate 39 years of service
EULENE INNISS | 7/31/2014, 12:02 p.m.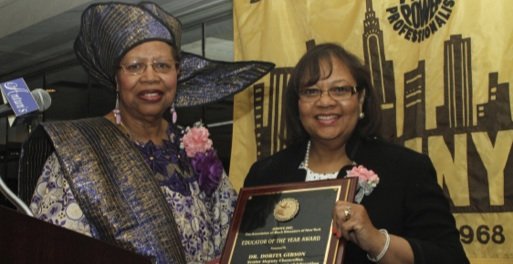 Under the theme "Celebrating the Past, Embracing the Future," the Association of Black Educators of New York held its 39th annual scholarships and award luncheon at the luxurious Antun's in Queens Village last month.
ABENY is a long-standing organization that was originally established in the 1960s out of a need for Black educators to have a relevant source of support indigenous to their needs. The original membership consisted of licensed Black principals and assistant principals. However, over time, the organization has extended membership to include teachers, counselors and all those in the field of education.
ABENY has several stated goals and purposes, two of which are to raise and improve the academic achievement of the African-American child and to advance, professionally, the African-American educator.
To achieve these objectives, ABENY offers scholarships each year to qualifying high school graduates who are continuing a course of study at a four-year college. There are also several activities throughout the year that cater to the advancement of education, such as a Black history essay contest, educational conferences and monthly workshops on topics related to current educational trends.
This year, Senior Deputy Chancellor Dr. Dorita P. Gibson, Schools Chancellor Carmen Farina's second in command at the New York City Department of Education, was honored as ABENY's Educator of the Year. Farina had nothing but praise for Gibson, describing her as "a consummate educator who knows instructional goals. One who treats people respectfully and is always willing to listen to parents. A voice for equity and access. Someone who can be spoken to in confidence and get good advice in return."
The Friend of Education Award was received by Eric Edwards, owner of the Cultural Museum of African Art. Edwards has one of the largest collections of African artifacts in his private museum. He has amassed more than 1,500 items that encompass 54 countries of Africa. Other awardees included Teacher of the Year Linda Jones-Prince and Lifetime Achievement Award recipient Eugene Brown, a retired educator. Scholarships were awarded to seven outstanding, exceptional high school graduates, including Tiara Austin, Kyonne Rowe, Chelsea Grant, Omar Saul, Ahmed Zakria, Chantalle Durr and Shanice Campbell, who are all expected to attend a four-year college in the fall.
The attendees at this packed affair represented all aspects of the educational spectrum. There was a sense of accomplishment, pride and respect. Some former presidents, including Mellouise Murdough, Dr. Robert Kane, Dr. Sheila Bobo and Nora Barnes, were all there to support the organization. They spoke of the youths and parents they had served and continue to support as they navigate the troubling waters of the city's educational system.
Ernest Logan, president of the Council of Supervisors and Administrators, encouraged educators to continue their support of ABENY. "I have been a member of ABENY for over 30 years and [am] proud of the young people who receive scholarships every year [that] prove that public education works. With support and resources, we can do wonders," he said.
ABENY's current president, Mable W. Robertson, challenged the educators to "look beyond the celebrations of past accomplishments and recommit themselves to finding solutions to the educational challenges and social issues existing in homes, schools and the community."
Guests and educators networked while the soothing cultural rhythms of Carol/Dad Productions permeated the air in response to a job well done.