Creating Agents of Change: The Power of You Teens
Black New Yorker
7/31/2014, 5:37 p.m.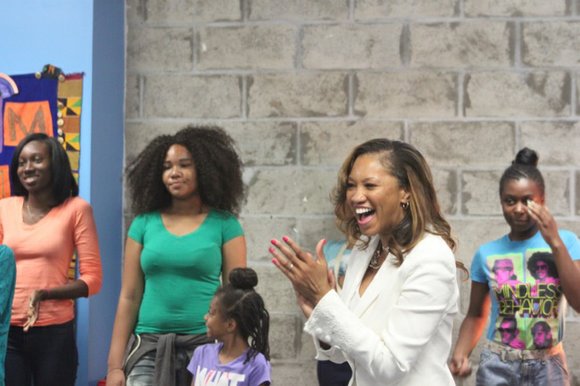 Bullying, sexual abuse, eating disorders and teen pregnancy—these are just a few of the challenges the CEO and founder of the Power of You Teens, Felicia Gibson Jaycox, wants to help our young girls combat. Created to empower and inspire teens, the organization acts as a support system for its youth, providing networking opportunities and other tools necessary for success.
While POYT aims to change and guide the paths of young girls, Jaycox explains that the organization has also become part of a more personal journey, one of healing and acceptance.
"Last year was probably one of the worst years of my life. My brother, who was only 50 years old, passed away very suddenly, and I went into a really, really deep depression," she said. "But I remembered reading somewhere that the best way for a grieving person to heal is to serve other people."
With a long history in the television industry, Jaycox found that she had focused too much on her career and the next move instead of what's really important in life. With the sudden loss, she explains that the calling to serve others found a way back into her heart.
Jaycox began the planning process for the Power of You Teens last year, and the organization held its first "PowerGirl" meeting March 1.
"I used to have an organization just like this one [POYT]," said Jaycox, referring to her former work with the Glamour Girls back in Florida. "I realized it was the most powerful time in my life, because I was able to help young girls improve their quality of the life."
Continuing her work here in New York, POYT held its first "PowerGirl Ambassador Search" at the Dream Center in Harlem Saturday, July 26. Filled with future doctors, psychiatrists, bakers and musicians, the center gave off a "first day of school" vibe. Young girls, ranging from the age of 13–19, sat amongst one another as quiet and reserved strangers.
On stage, POYT partners Ashley McFarlin Buie and Kala Riggins took turns bringing the girls out of their shells and encouraging them to participate in the meeting. "This isn't going to work. You know our ambassadors have to talk, right?" Buie joked as the girls giggled among themselves. "When you speak up and say who you are, the world comes to you. Come on, be confident."
After finally introducing themselves and their interests, the girls took turns strutting down the narrow makeshift walkway between the rows of chairs. "Whether you're walking down the hallway at school or down the street, we're going to teach you to walk with confidence," said Jaycox. "And this is just the beginning."
Sunday, Aug. 24, POYT will host its first Empowerment Experience Expo for teen girls and their families at the Alhambra Ballroom in Harlem. The positive and free event will include a back-to-school fashion show featuring teen models of all shapes and sizes, a "PowerWomen" panel of successful role models in many industries, a Zumba and hip-hop class, live entertainment and more.
According to a press release, by engaging with the young women of Harlem, "POYT seeks to develop tomorrow's agents of change who understand their self-worth."
Being of service to young women and inspiring them to believe in themselves has become an important and meaningful part of Jaycox's life. "If they're willing to do the hard work, they can do anything," she said.
Tickets for the Empowerment Experience Expo can be reserved at thepowerofyouteens.com.