EMS workers who responded to Eric Garner suspended without pay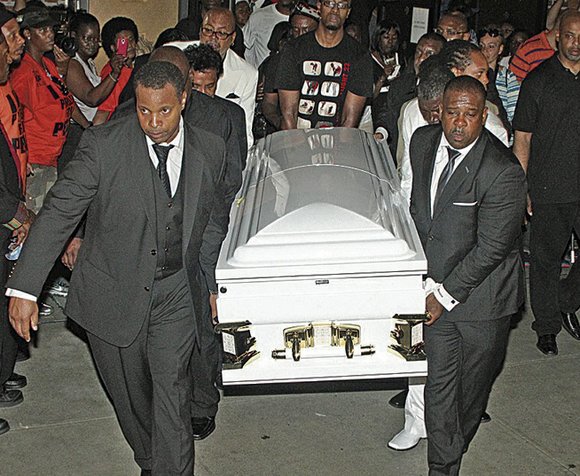 The four Emergency Medical Service employees who tended to the unconscious Staten Island man who died shortly after being choked out by the NYPD's Daniel Pantaleo last Thursday evening have been suspended without pay by the Richmond University Medical Center, pending a probe.
A cellphone video captured the tragic confrontation 43-year-old Eric Garner had with New York's finest, as well as the subsequent actions and nonactions by the EMS workers as he lay unconscious on the sidewalk for several minutes while they failed to perform any lifesaving measures on him.
Garner is heard repeatedly gasping and saying, "I can't breathe! I can't breathe!" as he's held in a sleeper hold, a tactic prohibited by NYPD policy. Several minutes into the video, a female technician finally takes Garner's pulse, and then says they're going to get help.
Taisha Allen, who had been friends with Garner for years, said she began recording when police initially confronted the married father of six in Staten Island on Bay Street and Victory Boulevard.
"His head hit the concrete, his eyes rolled back in his head, and he kept saying he can't breathe, and didn't breathe anymore … and saliva came out of his mouth with blood," she said. "I was distraught, I was upset and mad that the cops had him on the floor like that. They should have performed CPR on him and they didn't.
"He was on the ground for a good 10 minutes, no response whatsoever," Allen continued. "When they put him in the gurney and put him to the side, EMS was stopped right there because they were trying to work on him."
Her video shows Garner lying on the ground motionless while the EMTs and eight cops peer over him. None administered aid. One medic at Garner's side doesn't even have any of the required equipment with her, such as an oxygen bag or a defibrillator.
A source said that Garner should have been immediately placed on a stretcher and had his airway, breathing and circulation checked. Instead, EMT Nicole Palmeri can be seen only checking for a pulse. She never uses a stethoscope to check his lungs for air movement, nor does she connect him to an oxygen mask. "You can [only] hear her say, 'Oh, he can't walk to the bus?'" the source said. "Maybe the EMT felt a pulse, but it was obvious this male was in serious distress and needed to be assisted with his
breathing."
Witness Ramsey Orta said they pleaded with EMS workers to be more deliberate.
"We even screamed at them and told them, why are they concerned with putting him in the ambulance when they can do CPR right then and there?" Orta said.
Though Garner was an asthmatic, authorities said he died of a heart attack en route to the hospital. Autopsy results have yet to be released.
The EMS workers are not city employees, but work for Richmond University Medical Center, according to the FDNY. They were first placed on modified duty. Hospital officials then announced Monday the workers were being suspended and would not be allowed to work at the hospital or throughout the 911 system.