No Mercy: Police put banned chokehold on pregnant woman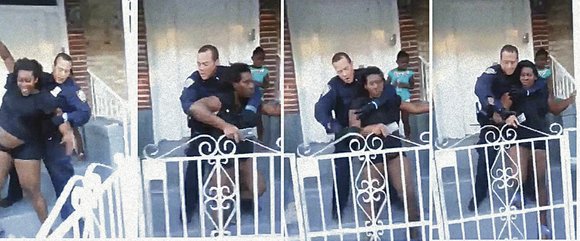 The Black community is in an uproar after a video surfaced showing a seven-months pregnant woman being held in an apparent chokehold by an NYPD officer. The Police Department said her family was grilling on the sidewalk outside their home in East New York, which is illegal.
"I was shocked," said Rosan Miller. "They just drove up and held me and began to choke. I asked them, 'What's the problem?' and they never explained it. The police are here to protect us, but they're not doing that. I'm in pain. A lot of pain."
"[Bratton's] policy of 'broken windows' perpetuates a system that targets people of color that causes negative interaction between police and community," Councilwoman Inez Barron told the Amsterdam News. "Bratton must go!"
Monday, July 28, shortly after noon, Barron and her husband, former Councilman Charles Barron, held a press conference in front of Brooklyn's 75th Precinct to dispute the actions taken by the NYPD. "If it was a white neighborhood [the patrolling officers] would have kept driving by," said Charles Barron.
Miller and her family were grilling food outside their home in East New York, Brooklyn, like people in the neighborhood tend to do during the humid summer days. But a day that should have ended like any other, with laughs and full stomachs, instead ended with husband, Moses Miller, with a dislocated shoulder and Rosan Miller needing to go to the clinic to check on the health of her unborn child.
"[NYPD] are suppose to protect our community, but they ended up abusing my wife," Moses Miller lamented from the podium, while addressing the press. "She is not feeling well. She's feeling a lot of pain in her back."
Police say the trouble began Saturday evening around 7 p.m., when they found Moses Miller grilling on the sidewalk, and he refused to hand over his ID and began walking away from the officers. Officers say they attempted to arrest Moses Miller, but John and Rosan Miller intervened, slapping at the officers. According to the police, Rosan Miller then resisted arrest. Moses Miller was charged with resisting arrest and his brother, John Miller, was charged with harassment and obstruction of justice. Charles Barron called for the immediate release of the Millers after learning of the incident.
Pictures of the incident show an officer with his arm around Rosan Miller's neck, forcibly removing her from the front yard. Video footage of the incident corroborates the Millers' claims that the police exceeded their mandate, according to the family's attorney.
A neighbor, Tanya Wilcox, said that she's afraid to confront officers after they act inappropriately for fear they might retaliate. She thinks that police continue to assault Black people because there are rarely, if any, repercussions for doing so.
"They need to hire police officers from the community and not transfer them in from Long Island, or whatever," stated Wilcox, a mother of four. "They need to be mentors but not think they are above the law."
The Barrons are both holding the police commissioner personally responsible for the tactics his men used. Retaining his role as head of the police force under Mayor Bill de Blasio, despite the multiple infractions under his watch, is unacceptable, they argued. The two also disputed Bratton's claims that sensitivity training would remedy the schism dividing the community and the police force.