Talking SCHOP! Sizzling feet on Lenox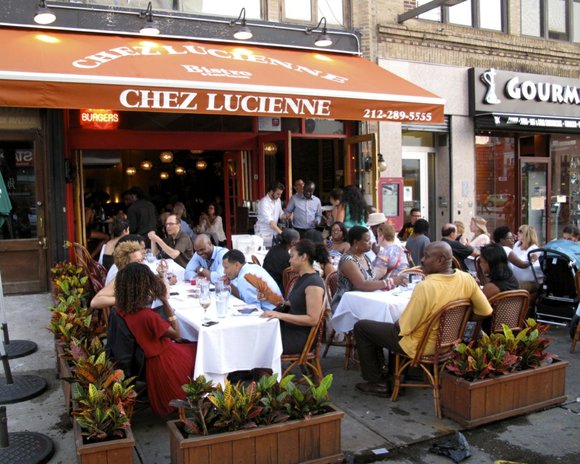 Your eyes are not deceiving you. Those grooves on the sidewalk on Lenox Avenue between 127th Street and 118th Street are real. Last Tuesday, loyal and patient Harlemites and patrons made their way up and down the avenue for the second annual Lenox Sizzles restaurant crawl. Not even a week's delay because of thunderstorms would stop the sold-out event from going down.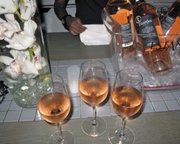 Guests picked up their famous Experience: Harlem (@XperienceHarlem) orange wristbands, maps and menus at 6 p.m. at various locations. They were quickly off to "#EatDrinkMingle" with the rest of the 999 other crawlers before the 10 p.m. end. The hot and sticky night couldn't stop the joy and celebration of what is becoming a necessary summer right of passage.
I started at Chez Lucienne (@ChezLucienne) for a cocktail with friends. It was a Hendricks Gin sangria that set the right tone for the evening and allayed the day's stresses quickly. The plates of croque monsieur and calamari were whizzing by trying to keep up with the growing demand. Next door, Red Rooster Harlem (@RoosterHarlem) was in the same situation, "laying" their red devil eggs while the Latin jazz band played.
We moved up the avenue to the most northern participant of Lenox Sizzles, Lenox Saphire, but not before seeing the abundance of crawlers making their way into Corner Social (@CornerSocialNY) and Cove Lounge (@CoveLoungeNYC). Folks were out and ready to get it in!
Newly opened, both the bakery and the restaurant of Lenox Saphire were hopping. The deejay was on point, making the crowd sway while they sipped on blue gin cocktails and munched on African fishcakes. We had to sit to enjoy the delicious chicken and rice, a really great serving for $5!
For me, my crawl would not be complete without going to La Bodega 47 (@LaBodega47), the most southern participant of Lenox Sizzles. We could take the bus, the train or even one of the free pedicabs available. However, there were more places to visit before 10 p.m. and walking was the best way to see them.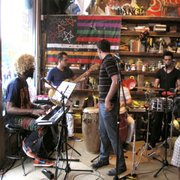 En route, we passed Harlem Shake (@HarlemShakeNYC). There was a line out of the door for their myriad offerings, including peach shakes, burgers, fries, dogs and pie. Completely understandable! Note to self: I gotta get in there to cast my ballot for the next Miss Harlem Shake!
We also stopped in to Cheri (@CheriNewYork). I finally got to see what it looks like inside. It's very homey and inviting. I was told the vichyssoise they were serving was delicious. Hopefully I will have the opportunity to dine there and experience the ambiance.
By the time we made it to La Bodega 47, they were down to the last morsels of food. Owner Brian Washington Palmer said, "The line for food did not decrease since [Lenox Sizzles] started." Perhaps this is where I should have started. I guess I will make my own crawl back for curry chicken and the like.
I had to stop in at Settepani (@SettepaniNYC) to taste their inventive Hendricks Gin sorbet en route to our last stop at Barawine (@Barawine). There, the clusters of friends we saw along the way would settle in for music and rounds of dry rose to discuss the event and future plans.
Thank you, Experience: Harlem, for another awesome crawl! Here's to burning up the streets again next year!
Happy eating and thanks for reading!
Kysha Harris is a food writer, culinary producer, consultant and owner of SCHOP!, a personalized food service offering weekly and in-home entertaining packages. Questions? Comments? Requests? Feedback? Invitations? Email her at kysha@iSCHOP.com, follow her on Twitter and Instagram @SCHOPgirl and on Facebook www.facebook.com/SCHOPnyc. For even more recipes, tips and food musings, subscribe to her blog at www.talkingSCHOP.wordpress.com.