Thursdays, Seleno celebrates, Poncho Burns, Newport at 60
Jazz Notes
Ron Scott | 7/31/2014, 6:14 p.m.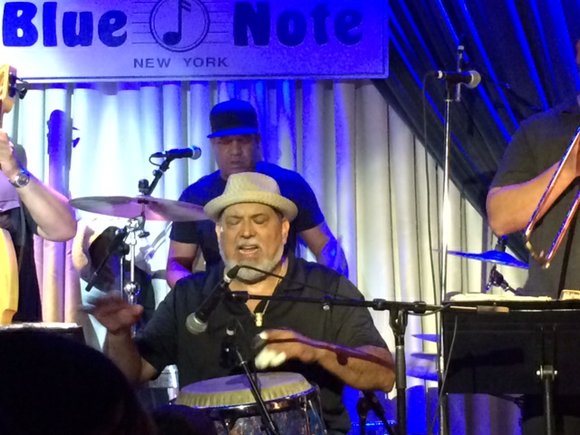 In the midst of this Harlem gentrification, more venues are opening their doors to live jazz. Every Thursday, the Lenox Saphire (341 Lenox Avenue at 127th Street) brightens with The Phil Young Experience and Friends.
The music stretches beyond the straight-ahead jazz pretext, featuring drummer Phil Young, with guitarist Marvin Horn, keyboardist Mel Davis, percussionist Gary Fritz, vocalist Marvel Allen and saxophonists Bill Saxton and Patience Higgins. In Harlem, jazz is more than just a word; it's an uplifting spirit moving with the blues, funk and all the soul you can stand. If the music hits you, just let go.
Live music is performed 7 p.m. to 11 p.m. Happy hour is 4 p.m. to 8 p.m. The lineups may change without notice. For information and reservations, contact Emmett Causey at 917-742-1239.

The American Legion Post 398 is the only such organization in Harlem. For more than 50 years, it has proudly represented this country's veterans. But on Sunday evenings, it carries on Harlem's tradition as a percolating jazz force. Tourists from as far as Europe make the sojourn to the tree-lined block at 248 West 132nd St., to hear Seleno Clarke and his Harlem Groove band lay down the music's gospel truth.

Recently, the noted organist celebrated his 16th anniversary playing Sundays at Post 398. "This is a special event for me," said Clarke. "Sixteen years ago, my dream was to give back to Harlem by playing and bringing young musicians into the community. I am so proud the Sundays helped promote musical diversity on this stage and brought world-class musicians from around the world to see and hear what we are all about in Harlem."
Clarke's Jazz Sundays transformed Post 398 into a jazz workshop, where young aspiring musicians from as far as Italy and Spain come to see the organist shape hard-hitting chords into beautiful ballads or foot-tapping blues tunes. Many eager musicians (saxophonists, organists, trumpeters, drummers, etc) patiently await their turn to jam with Clarke and the house band.
On this special 16th anniversary, Clarke was joined by longtime band members tenor saxophonist Peter Velera, guitarist Tim Ling, and drummer Sean Cameron. Clarke brings the funk and takes you back to church with sweeping chords and foot movements that spark swinging harmonies. It is his playing ability and warm personality that has influenced young musicians to seek his mentorship.
One young organist, Nate Lucas (the son of the great Max "the Sax" Lucas), whose star is still rising as an organist, stopped by for Clarke's celebration and was invited to the stage, where he quickly funked it up with "Green Onions" and his version of "Summertime." Organist Reggie Woods shared his spirited version of "Song for My Father."

"Thank you, Seleno, for making the post what it is today," said Rod Roderick, commander of Post 398. "He has become an icon here on Sunday. He's been a great promoter of jazz. Because of Seleno and his music, we have a youth ROTC group, Little League baseball team and a rifle twirling team that are a part of the Harlem community."