Harlem-born Yankee's Chef talks Inspiration, Family, and Life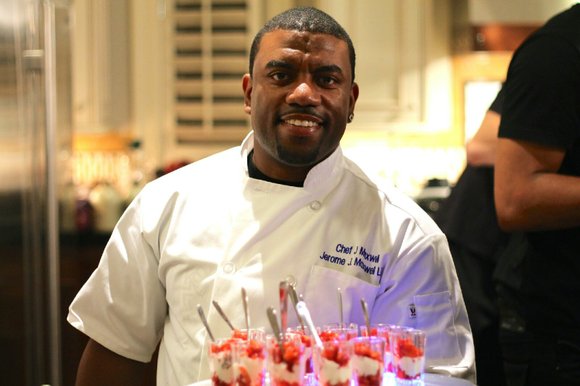 Chef J Maxwell was halfway through a 3-day trial based interview in 2012, preparing meals for Yankee pitcher Carsten Charles "CC" Sabathia, when he was instructed to cut a cake for lunch. He could not have guessed that the cake's icing would read "You're Hired!"  signaling the turning point in his career as he became the personal chef to the New York Yankee baseball player and his family, an accomplishment he couldn't be more grateful for.
Growing up in Harlem, cooking collard greens and macaroni and cheese with his grandmother, Jerome J. Maxwell, now 32, developed his skills and a love for culinary art in her kitchen.
"My grandmother would sit me at the table while she was preparing a meal, [and afterwards] test me on what steps she took to prepare [it]," he said.
She was unknowingly prepping Maxwell for a lifelong venture into the industry. Only a year out of high school, Maxwell started his own catering business, Maximum Catering Company, primarily seeking the early exposure that would help him become a household name.  
"In the beginning, no one helped me; I catered my friends and family's events; sometimes I did not get paid," he said.
He credits the success of his early business to a personable attitude and heightened attention to detail and craft when preparing meals in an effort to bring "instant gratification" to customers.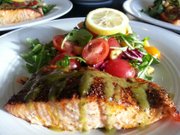 Despite his current success, as an African American, Maxwell initially faced some difficulties breaking into the industry.
"There has been a shift in both the personal chef and executive restaurant chefs industry. In the past, African American Chefs were not as prevalent in the kitchen as they are now, which made entering the field challenging," he recalls. "[But] presently, a lot of my colleagues are men and women of color."
It wasn't until Maxwell left New York for Atlanta, Georgia that he was able to begin working with the celebrity clientele he'd always dreamed of. To date he has cooked for celebs such as Outkast's Big Boi, and catered events for L.A Reid attended by Kanye West and Rihanna.
"The most rewarding aspect [of my career thus far] is working with the Sabathias," he said.
After catering an event for a friend who was dating the Sabathia's nanny at the time, Maxwell discovered the family was searching for a personal chef and applied for the position he holds today.
"It's an honor,"  he said. "Being from New York and [being] a longtime Yankee fan…it's a huge accomplishment."
Maxwell expresses appreciation for his employer and the opportunities the position has opened up for him, such as catering humanitarian fundraisers in conjunction with CC Sabathia's Pitcch In Foundation for inner city youth.
Sabathia's wife, Amber, recently hosted an event at her home – which Maxwell catered – whose proceeds went to the Not For Sale Organization to end human trafficking around the world.  
The Pitcch In Foundation's efforts to bring awareness to the underserved and the underprivileged has encouraged Maxwell to do so as well.