Basil Paterson's remarkable life celebrated at Riverside Church
Herb Boyd | 6/5/2014, 4:05 p.m.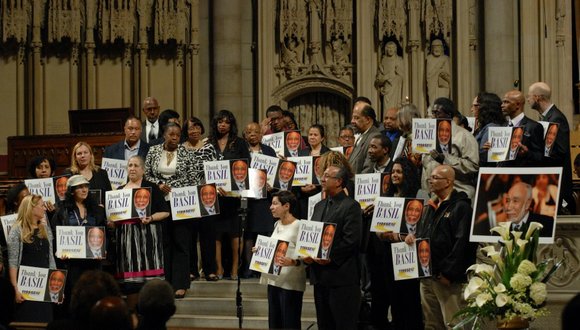 Basil A. Paterson's prowess in the kitchen, especially his special way of making blueberry pancakes, was mentioned with reverence by several speakers at his memorial service last Thursday evening at the Riverside Church. However, his ability on the grill took second place to the citations and commendations about his expertise in the legal arena and in the political realm.
"I learned so much just watching him," Mayor Bill de Blasio said of Paterson. "He made things easy … and like a shepherd, he directed from behind."
State Attorney General Eric Schneiderman was effusive in his praise for Paterson, "who was always urging us onward and was so incredibly generous with his time." He added that Paterson also asked very interesting and provocative questions, "especially when I was campaign treasurer for David [Paterson]."
Rep. Charles Rangel and former Mayor David Dinkins are the last of the putative "Gang of Four," having lost Percy Sutton in 2009, and it was expected that they would recall their fabulous and productive time together.
"I have never heard an unkind word about Basil," Rangel said. "He was a man of great charm, honesty and dedication, and he was always trying to get me to join the Boule." At the beginning of the celebration, a circle of members of Sigma Pi Phi Zeta Boule-Omega Ritual formed an unbroken circle for their fallen comrade, with Carl McCall, the sire archon, reciting the words of farewell.
Dinkins said that if Sutton's son Pepe Sutton would change his name to Percy, there would a new edition of the Gang of Four that would include Basil's son David, Rangel's grandson and the mayor's son David. "Basil never lost sight of where he was or where he was going," Dinkins said. "He was a guy who could get things done."
Assemblyman Keith Wright recalled that Paterson questioned him about what he wanted to be when he was a very young man.
"I was 15 years old, and he was treating me like I was already a grown man," Wright remarked. He said that Lloyd Williams told him about Paterson's ability to make blueberry pancakes, and "he said no one did it better."
"I knew him since I was 9 and learned very early about his genius and his ability to break down racial barriers," said Council Member Inez Dickens. "He brought joy for all of us to follow." After acknowledging the passing of Maya Angelou, which several speakers did, Dickens recited portions of an expression by the esteemed poet. "She wrote that 'I've learned that people will forget what you did, but they will never forget how you made them feel.'"
The Rev. James Forbes, who presided over the ceremony, reminded the audience that one of Paterson's favorite hymns was "Blessed Assurance," and it was delivered with great harmonic intensity by the Ebony Ecumenical Ensemble.
As is his wont, George Gresham, president of Local 1199SEIU, took the pulpit with a battalion of his union members, each of them bearing a sign of love for Paterson. "I know I couldn't do this alone," he began.