Basil Paterson's remarkable life celebrated at Riverside Church
Herb Boyd | 6/5/2014, 4:05 p.m.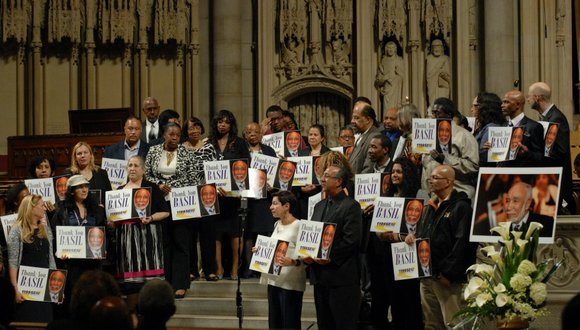 Gresham recounted the times he worked side by side with Paterson during union negotiations. Along with noting Paterson's penchant for pancakes, Gresham noted that he was a superb stickball player, "a legend at the game in this community."
The Rev. Al Sharpton enthralled the audience with a story that indicated Paterson's prominence did not stem from on high but from below. "He was a giant, a big man who didn't have to tower over you," he explained. "Basil was a real man of greatness."
Randi Weingarten, president of the American Federation of Teachers, thanked the Paterson family, particularly Basil's widow, Portia, "for sharing him with us … he said we were all special." Weingarten wondered how he could look so dapper at 4 a.m. in the morning.
"I would not be here without Basil," said Michael Mulgrew, president of the United Federation of Teachers. And like Weingarten, he thanked Portia Paterson and the family for allowing Basil Paterson to be with them. "His face and voice would brighten at the very mention of your name, Portia."
Attorney Harold Ickes said that in the passing of Paterson, "we lost a wise and wonderful friend … he was captivating and he drew you to him." He added that Paterson possessed a moral sense and very shrewd sixth sense of purpose.
Hazel Dukes, president of NAACP New York State Conference, following behind Ickes' expressive encomium. "Everything has been said that I wanted to say," she said, laughing. But she, too, commented on the blueberry pancakes that became almost like a running narrative for the evening. She topped off her appearance by inviting the grandsons to join her at the podium, and together, they read Langston Hughes' poem "I Dream a World."
David Paterson had the final words, and he observed that the church was a special place because it was where such greats as James Baldwin, Ossie Davis, Percy Sutton and Bill Lynch had been celebrated. There were a few moments spent recalling his father's political odyssey before he advised that "we must pick up that struggle," his father advocated, closing with an Angelou refrain, "And still I rise."
The entire audience rose when Jimmy Owens' trumpet filled the sanctuary with "When the Saints Go Marching In," which was a perfect song with which to send Basil Paterson to the other side.