Cosmopolitan Review June 5- 11, 2014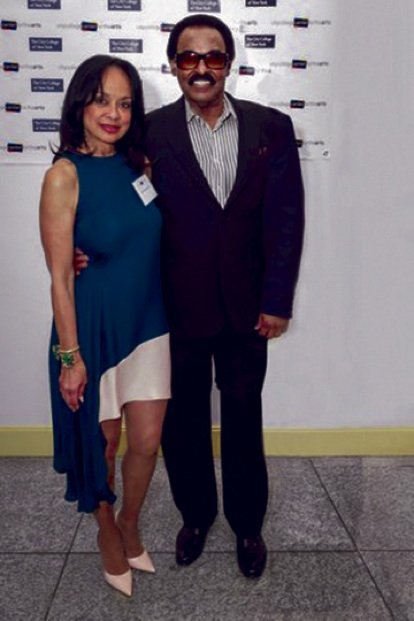 Aaron Davis Hall, one of the largest performing arts centers in Manhattan north of Lincoln Center, has received a commitment from the City Council and the College University of New York for $12.5 million to upgrade the facility as it is to become the City College Center for the Arts (CCCA). In celebration, over 200 New Yorkers interested in arts and education came to Bonhams auction house to hear Lisa S. Coico, president of the City College of New York (CCNY), make the official announcement.
City College has been an artistic treasure for the eye to behold, as it is one of the city's architectural wonders. It is only natural that the college accentuate its structural beauty with a full range of venues for creative expression and appreciation. According to Karen Witherspoon, CCNY vice president of government and community affairs, who is providing leadership for the arts initiative, "The college is very passionate about its ownership of Aaron Davis Hall and the arts. We have assembled a phenomenal and diverse board of directors and advisory board with a deep-rooted commitment to the arts to provide governance and guidance."
Currently, Aaron Davis Hall features two theaters that seat 630 and 267 and a studio complex. The venue showcases performances that are multicultural in focus, including classical, jazz and Latin music, dance, theater, literary readings, film, performance art and art exhibitions. A $2.5 million lobby and exterior renovation has already begun as part of the ongoing renovations that will continue over the next five years.
The center will serve as a cultural hub, affording a sense of community both within the school and the neighborhood it surrounds while inspiring creativity and welcoming diversity. Gregory Shanck, managing director of CCCA, stated, "CCCA begins a new chapter for City College and the Harlem community at large. We are thrilled about this new venture that will strengthen our commitment to bring quality culture and arts programs to the constituents of this great city and our neighboring tristate community"
Dancer, actor and events producer David Covington has been named artistic director of the center. He formerly served as associate producer for the Department of Special Programming at the John F. Kennedy Center for the Performing Arts in Washington. Accordingly, Covington states, the City College Center for the Arts programs will challenge viewpoints and inspire debate. "We will reach across the aisle and guide patrons on a journey of discovery, understanding and cultural celebration," he said.
Hosts for the evening's event included Coico, Witherspoon, Carole Haarmann Acunto, Alicia Bythewood, John Farr, Chuck Jackson, Donald K. Jordan, Ben E. King, Stewart F. Lane and Bonnie Comley, Pam Laskin and Byron and Sylvia Lewis.
Among the distinguished guests were Reginald Van Lee, Jean Shafiroff, Claire Pellegrini Cloud and Rusty Cloud, state Sen. Roy Goodman, Anki Leeds, William Castro, Cheri Kaufman, Lucia Wong Gordon, Patricia Hill, Brie Bythewood, Lauren Day Roberts, Paola Bacchini and Arnold Rosenshein, Sharon Bowden and Larry Morse, Robin Cofer, Jill Spalding, Steve Acunto, Dr. Daniel Bythewood, Khalil Kain, Margo Langenberg, Roberta Downs Sandeman, Emery Westfall, Tricia Jean-Baptiste, Tim Walsh, Lillias White, Michel Witmer, Roy Kean, Travis Stewart, Khalil Kain, Stephen Byrd, Pamela Carlton, Joyce Haupt, Heidi and Alan Roberts, Christophe von Hohenberg and Carolina von Humboldt.