Maya Angelou and Elombe Brath Remembered
Ron Scott | 6/5/2014, 1:49 p.m.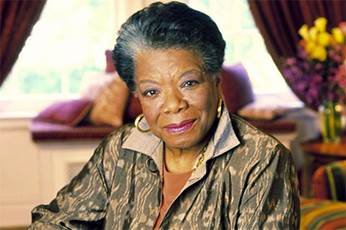 The world woke up on May 28 to hear that poet, author and activist Maya Angelou had died quietly in her home in Winston Salem, N.C., at the age of 86. She lived a life that encouraged people to be leaders and not followers, to be independent thinkers who believe in justice and pursuing the truth.
Her voice demanded attention like a John Coltrane solo. Her poetic, thought-provoking words flowed easily but cut through societal falsehoods like sharp daggers. The wordsmith warrior, who was also an activist who marched with Dr. Martin Luther King Jr., worked with Malcolm X and was a strong supporter of South Africa's anti-apartheid movement.
Angelou was honored and respected by U.S. presidents; she recited her poem "On the Pulse of Morning" at President Bill Clinton's inauguration in 1993. In 2011, President Barack Obama presented her with the Presidential Medal of Freedom.
Because she had such significant accolades, many will refer to Angelou as a icon or legend, but as she stated in a television interview, "I am not an icon or legend. I am just an ordinary person who looked for the truth and shared my thoughts."
Angelou spoke from the Black experience, but her words became an instrument of inspiration throughout the world. Her words pulled readers in like magnets, and she beamed with an aura of wisdom and sincerity that drew people into her positive force.
Angelou was a "Phenomenal Woman" who leaves behind her many works. When the world gets too intense and inspirational words are needed, one can turn to her spoken word albums and books, such as "I Know Why the Caged Bird Sings," or her poems, like "Still I Rise," in which she said, "Does my sassiness upset you?/Why are you beset with gloom?/'Cause I walk like I've got oil wells/Pumping in my living room." In the last stanza of the poem, she said, "Bringing the gifts that my ancestors gave,/I am the dream and the hope of the slave./I rise/I rise/I rise."
In commemoration of the life of Angelou, the Schomburg Center for Research in Black Culture (515 Lenox Ave. at 135th Street) is presenting an exhibition, "Phenomenal Woman: Maya Angelou, 1928-2014," which is open now through June 30.
Some of the personal gems included in the exhibit are letters from James Baldwin and Malcolm X, a scrapbook of Angelou's entitled "Arkansas" from an elementary school assignment and the original handwritten manuscript of "I Know Why the Caged Bird Sings." The library acquired over 200 personal papers from Angelou in 2010.
Christopher Moore, senior researcher at the Schomburg, noted, "Ms. Angelou was a close friend to the library and was always very accessible." Many have been leaving flowers and cards at her Harlem brownstone, located at 58 W. 120th St.
Elombe Brath was a persevering warrior who led the Pan-African movement in Harlem and the rest of the country. He walked through Harlem with his head held high and always had books and newspapers in hand. He was Harlem's link to Africa.