Nigeria Tries to Stem Protests Over Abducted Girls
6/5/2014, 2:27 p.m.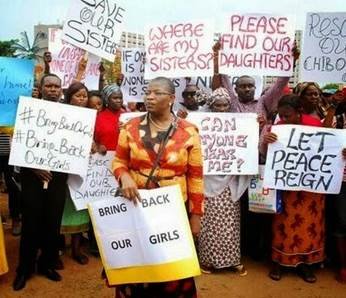 June 2 (GIN) – Police in Nigeria have issued a ban against further protests by Nigerian citizens, mostly women, who are demanding that government rescue the nearly 300 kidnapped schoolgirls whose whereabouts government claims to know.
National anger and frustration has turned on the government for its failure to rescue the teenage students and many others being targeted around the country. The girls had been studying in the remote northeastern village of Chibok near the Cameroon border when they were kidnapped on April 14.
The administration of Goodluck Jonathan appears to be growing defensive as an international spotlight remains focused on the country's security failures. Last week a government-sponsored group appeared, calling itself "Release Our Girls" with the intention of turning attention away from government failures to blame the insurgent movement.
Former World Bank vice president for Africa Obiageli Ezekwesili, recently joined the protests in Abuja's Maitama park.
In announcing the ban, Police Commissioner Joseph Mbu, called the protests dangerous and embarrassing. "As the Federal Capital Territory police boss, I cannot fold my hands and watch this lawlessness," he told the state-run news agency... Dangerous elements are planning to join the groups under the guise of protest and detonate explosives aimed at embarrassing the government."
Mbu further complained that the Fountain of Unity, the venue for protests in the capital Abuja, had become a place for "cooking and selling" by vendors to the protesters, becoming a nuisance and too near to the homes of diplomats.
Recently Peter Biyo, a legislator representing Chibok, called on federal officials to demolish the Sambisa forest – believed to be the Boko Haram hideout and so dense "you can only see the next person by your side with a flashlight. Lions, elephants and other animals roam freely," he claimed. "Sambisa Forest must be destroyed. If the government can do that, the problem of insurgency will end".
But Forest Management Professor Labode Popoola discounted Biyo's remarks. In a published editorial, he wrote: "Sambisa Forest, now a National Park, has been heavily deforested… In fact, most of the animals have also migrated as a result of perturbation.
"Nigeria has lost her forest cover which as of 1979 represented about 20 per cent of its total land area…
With barely six per cent of her land area now under forest cover, the country is now at the mercy of ravaging negative climate scenarios, desertification, gully erosion, incidence of diseases and communal conflicts.
To now suggest that one of the few relics of forests in the northern part of Nigeria be destroyed because of a social problem accentuated by years of government insensitivity, mindless corruption and impunity in high places, is to say the least, a wrong approach to solving a self-inflicted problem. Why create more problems in an attempt to solve one?"