Summer Jam: Hip-Hop Stars, Weed Smoke and a Whole Lot of Cursing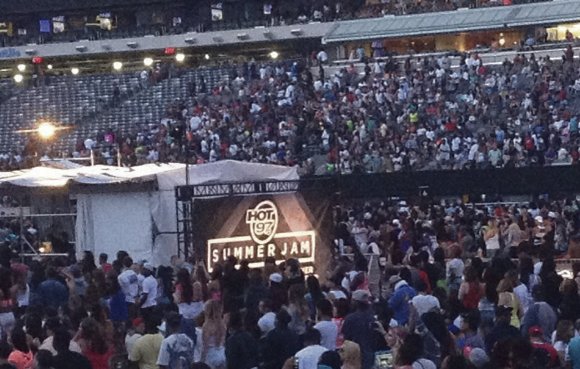 I don't want to sound like a curmudgeon, but dang—Hot 97's Summer Jam at the MetLife Stadium was full of curses, big beats, surprise guest stars, base lyrics and, dare I say, much celebrated ratchetness.
In between the snatches of mindless debauchery were crowd-rousing performances that for the most part hyped up the 50,000-plus crowd into a frenzy.
There was no Wu Tang, Jay Z, Rick Ross, Diddy or Lil' Kim. That didn't matter to the crowd that was gathered in the hot sun; the anticipation remained.
Of course, Snoop Dogg kicked it with his fellow weed-believer Wiz Khalifa. The Roots were cool bringing out the Lox (where ya' been?) and M.O.P. Trey Songz brought out his big smile, drawn-out runs and falsettos, muscles and cockiness.
Nas did what he's been doing for 20 years, blessing the crowd with "Illmatic" tracks. In between songs, he told the crowd that it is up to the kids to take the lead for their future now. He yelled with gratitude that he has been in the game for two decades.
"Wow, I'm 20," said a young high-as-a-kite dude, just before he vomited all over several people. Like an OG passing the torch, or at least recognizing the youth before him, Nas gave a big intro to Meek Mill, who took over his set.
Meanwhile, females puffing on fat blunts rapped every lyric and threw themselves into every contortion possible while dancing. They were lit. As were the young cats, who, with puffed up bravado, tried to get their attention. Cute.
And then there were the scuffles; state troopers and orange-shirted stadium security officers vamped on trouble spots like they weren't having it. Even the little beat down and alleged theft of a heavy gold chain, which occurred during 50 Cent's set, was done and dusted before it started.
After his 10-year Summer Jam ban apparently was squashed, 50 Cent delighted those who love him when he brought out G-Unit: Lloyd Banks, Buck and Tony Yayo. They were back together again with their not so uplifting tracks about women, property and money gathering.
The crowd, which averaged in age between 20- and 40-somethings, went nuts. 50 Cent went on a rant about Irv Gotti and kept asking the crowd if they came just to see him. The people repeatedly screamed, "No," until the organizers turned his mic off.
Drake and Lil' Wayne brought their irresistible rock meets an unmovable force energy to the stage late into the night. Those who stayed on into the wee hours caught Nicki Minaj. She knows her audience and played to her fan base.
So who else showed up? Action Bronson took his larger-than-life self into the receptive crowd. Dres from Black Sheep spat a couple of lines and picked up the train on the New York transit line with a sing-along audience, and French Montana worked off his current popularity. Other performers included Jeezy, Nipsey Hussle, Ty Dolla Sign, Kid Ink, A$AP Ferg and YG. This is hip-hop now? The ladies knew every line and bounced along like their lyrics were compliments. The guys thought they were onstage.
Earlier in the day, sort-of-newcomer Mack Wilds continued to shore up his base with a performance that kept the people hyper. Iggy Azalea brought her I'm-really-trying-to-get-in self, and some folk bought what she was selling.
DJ Enuff, DJ Mister Cee and DJ Mustard took up sets between performers. They kept the energy elevated.
Perhaps it is too much to ask for the days of tracks when a woman isn't called out of her name, and every dude with a mic didn't think he was a pimp—forgetting that he came from his mama. Still, Summer Jam did what it does.
Angie Martinez, Miss Info and their fellow Hot 97 hosts thanked the attendees. Social media blew up, of course, and the live streaming served those who couldn't make it out to East Rutherford, N.J. However, the folk at the venue seemed to leave happy, and more than a few ran to get nutcrackers, mojitos and stuff in the parking lot outside of the weed-smoke-filled arena.
That's what it was.