Talking SCHOP! Keep on tasting the UWS
6/5/2014, 2:34 p.m.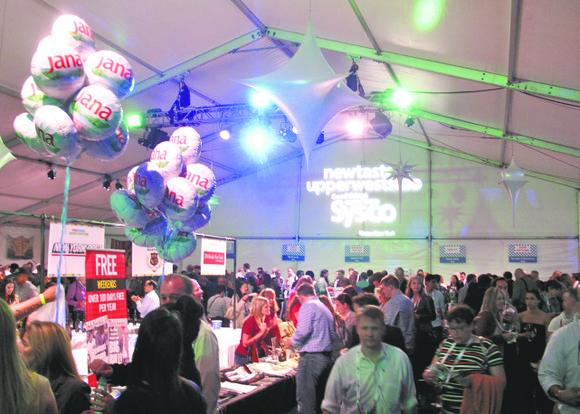 Happy summer season, everyone! Though it doesn't officially start for a couple of weeks, we are all happy to dive into Memorial Day weekend as the unofficial beginning of sunbathing, barbecuing and revelry. I hope you enjoyed the long weekend. Let the summer planning commence!
One of the best ways I like to bring in the unofficial summer start is with the New Taste of the Upper Westside (@NewTasteUWS), and this year was no exception. Last week, I attended the annual three-day festival of food, chefs and eating all to benefit the Columbus Avenue Business Improvement District's sustainable streetscape project, Wellness in Schools program and the Theodore Roosevelt Park Fund. While the festival had a bit of a rain-delayed start, the restaurants and chefs kept their energies high and delivered exciting bites and flavors for the guests.
It began with "Soiree in the Park" at the Theodore Roosevelt Park of the Museum of Natural History. A smattering of chefs from the New Taste showcased a few morsels to whet our appetites for the good times to be had under the 77th Street white tent in the coming days.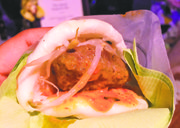 The spring chill in the air didn't prevent me from feeling refreshed by chef Mathew Oetting of Caffe Storico's ricotta tortellini in watermelon cucumber gatzpacho with basil oil. It had summer all over my mouth!
After that, UWS newcomer Savoury Indian restaurant took me straight to the streets of New Delhi with chef Lala Sharma's papri chaat. Crispy wafers with potatoes and chickpeas topped with tamarind, yogurt and mint sauce was a vegetarian delight.

UWS favorites held it down with their bites too! Chef Rodney Mitchell of Calle Ocho (@CalleOchoNYC) served marinated ahi tuna with white soy and mustard oil. I must have had five servings. And the house of cured meats Salumeria Rosi (@SalumeriaRosi) had a great spread of salame, mortadella and sopressata that had me craving more.
Nothing says TGIF like the New Taste of the UWS' "Comfort Classics." That is the relaxed evening of comfort food from 40 neighborhood restaurants. There was lots of beer and wine and bites to make you feel right at home.
With a friend in tow, we worked the perimeter of the tent, diving into whatever hit our food hearts. That first thump came from the Meatball Shop (@Meatballers). Owner Daniel Holzman was there doling out pizza balls with tomato sauce and grated parmesan. They were light but hearty with great texture.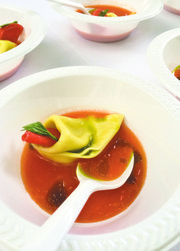 A couple of bites down the row, I noticed the famous green neon sign for Shake Shack (@ShakeShack) … and the line in wait. I waited for what I thought was a Shack Burger. However, upon further inquiry, I discovered Shake Shack was showcasing the coveted Breakfast Shack, found only at limited locations like JFK Airport. It is a Pat Lafrieda (@PatLafrieda) maple sausage patty, cheese and a Niman Ranch (@Niman_Ranch) egg on a toasted potato bun. Shack Shack in the a.m.?! Look out!
My best bite of the evening came from the new restaurant Burke & Wills (@BurkeandWills). The former 79th Street Fatted Calf location served up a Thai-spiced kangaroo bao. I have never eaten kangaroo before, but these Aussies know what they are doing with their modern take on Australian fare. Good on ya!
I had to miss "Best of the West" on Saturday night this year due to another engagement, and thus bites from chefs like Jean-George Vongerichten and Jacque Torres. However, congratulations must go to chef and restauranteur Daniel Boulud on the evening's tribute to his legendary culinary career. You are an inspiration and a visionary. A votre sante!
Congratulations to the New Taste team on another successful event! Until next year!
Happy eating and thanks for reading!
---
Kysha Harris is a food writer, culinary producer, consultant and owner of SCHOP!, a personalized food service offering weekly and in-home entertaining packages. Questions? Comments? Requests? Feedback? Invitations? Email her at kysha@iSCHOP.com, follow her on Twitter and Instagram @SCHOPgirl and on Facebook www.facebook.com/SCHOPnyc. For even more recipes, tips and food musings, subscribe to her blog at www.talkingSCHOP.wordpress.com.