Video shows Black man being killed at home by cops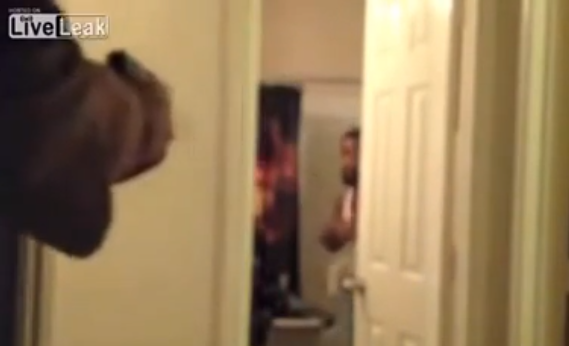 The relatives of alleged police brutality victim Michael Blair released a video on Wednesday, May 7 of his slaying at the hands of a Fort Bend County sheriff deputy in his own Houston home, in full view of his family.
According to reports, on Nov. 4, 2013, two Caucasian deputies responded to a 911 call about a Black man threatening to harm himself. Upon the cops' arrival, family members notified them that the 26-year-old, who had been diagnosed as a paranoid schizophrenic, had locked himself in the bathroom with a knife.
Reportedly, the family, being distrustful of police, had previously set up a hidden camera to record the incident.
The video begins with one of the deputies threatening Blair through the closed door, saying, "Hey man, we will kick in the door, and I don't want to do it!" At the same time, the other cop is seen picking the lock. Seconds later, one deputy warns, "Michael, you want to do this the easy way. Don't make us do it the hard way!"
After no reply, they knock on the door to no avail. Moments later, they manage to crack the door open slightly, then one deputy yells, "He's got a knife!" Blair slams the door shut but is overpowered and hit multiple times with a stun gun.
"Drop the knife!" the cops repeatedly yell while a struggle ensues. The Taser's jolting current can be heard buzzing while family members scream in the background.
With Blair failing to be subdued and still gripping the knife, one cop screams, "Stop! Goddamn it!" then opens fire, unleashing about a dozen shots, even after Blair collapses to the ground as his horrified relatives hysterically scream in anguish.
The family want to know why Blair was killed, being that he never threatened the cops with the knife. They want the Fort Bend County sheriff's office to start a crisis intervention team, and the Fort Bend County sheriff's office says they are in the process of hiring team members right now. On Wednesday, community activist Quanell X called the shooting "nothing less than a cold-blooded execution."