Janai Nelson Named Associate Director-Counsel of the NAACP Legal Defense and Educational Fund, Inc.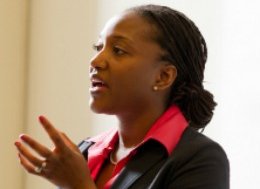 Janai Nelson, law professor and expert on election law and voting rights issues, has been named Associate Director-Counsel of The NAACP Legal Defense and Educational Fund, Inc.
Nelson joined the organization in 1998 as a NAACP LDF/Fried Frank Fellow. In 2002, she joined staff as an assistant counsel. She served as director of LDF's Political Participation Group from 2003 to 2005.
"We are thrilled to welcome Janai Nelson back to the LDF family in a new role that will take full advantage not only of her deep knowledge of voting rights and constitutional law but also her skills as an advocate and leader," said Sherrilyn A. Ifill, President and Director-Counsel of NAACP LDF in a press release. "I know that Janai will be a tremendous asset to LDF in continuing our precedent-setting legal and legislative advocacy as well as in advancing new strategic initiatives."
She will officially begin on August 13 in the lower Manhattan headquarters.