Anti-human trafficking advocates rally at City Hall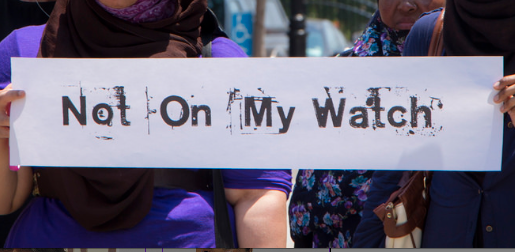 At the age of 9, Brianna (who's real name has been withheld) says that she was sold to a pimp after being kidnapped by her school janitor.
"I was beaten, abused, raped repeatedly and forced to give my body to strangers of all ages, in any which way they desired, for someone else's profit," said Brianna. She was locked in a closet and was only let out by the pimp when he wanted to sexually abuse her.
"There was no bathroom, running water or electricity," she recalled. "I slept on a bedbug-invested mattress." She was forced to shower at a strange man's house every two days.
Brianna, who is now 18 years old, is an anti-human trafficking advocate and was among dozens of faith leaders, advocates and city elected officials at City Hall June 3, imploring state legislators in Albany to "put aside the politics" and pass the Trafficking Victims Protection and Justice Act. If passed into law, the measure will toughen penalties against buyers and traffickers by making it a class B felony.
"Every minute that we spend waiting to pass this bill, another sexually exploited child or teen is being raped, beaten or sexually abused in some way," Brianna said. "And it's happening right here in New York."
Under current New York anti-trafficking law, human trafficking is a nonviolent (class D) felony that carries a maximum sentence of seven years imprisonment. A court may order a defendant to pay a fine of $5,000 or double the defendant's gain from the commission of the crime. This penalty, advocates argue, is "way too lenient." The proposed measure will increase the minimum sentence to between four and nine years and the maximum to between 12 and 25 years.
The measure is part of Gov. Andrew Cuomo's 10-part Women's Equality Bill, which was broken down into 10 separate bills last year. Advocates say they have been "waiting for too long to have the measure become law."
"We can't wait another year," Lauren Hersh, director of the Anti-Trafficking Public Policy and Legislative Advocacy at Sanctuary for Families, told the AmNews. "We have a lot of support. I know if Speaker Sheldon Silver put this bill to the floor, I'm confident it will be passed. Then we could have better protection for girls like Brianna."
Brooklyn Councilman Jumaane Williams, who spoke vigorously on the issue, said, "This is not just a women's issue. This is about families and communities. It is unacceptable that because we view it as a women's issue, there are men sitting around in the state Senate not passing the bill. It's not about politics. It is our duty to protect women, children and families."
The outcry was also part of the launching of the faith-based Coalition Against Human Trafficking and Domestic Violence's "Not on My Watch!" campaign. The movement seeks to engage faith-based leaders of all denominations to take action against human trafficking and other crimes against women and children, and to create a citywide presence and call to action against human trafficking and domestic violence against women and children.
The Rev. Que English of the Bronx, who is promoting the campaign, told the AmNews, "We've not been in our places, collectively, as houses of worship to combat this issue head-on, particularly people of color."
She continued, "It is time now, with statistics on the rise, of 2,200 lost to human trafficking last year, we need to stand in the forefront as faith leaders. We need to become safe havens, become educated, trained and equipped to combat these atrocities effectively."
English said the campaign is in partnership with the Mayor's Office to Combat Domestic Violence, City Councilwoman and chair of the Women's Issues committee Laurie Cumbo, policy writers, service providers such as the New York State Anti-Trafficking Coalition, Sanctuary for Families and other grassroots organizations.
The "Not on My Watch!" campaign and its partners will discuss their next step at a citywide conference that is slated for July 30. Hundreds of faith-based leaders and advocates are expected to be in attendance.