Cooking for Pops
Talking SCHOP!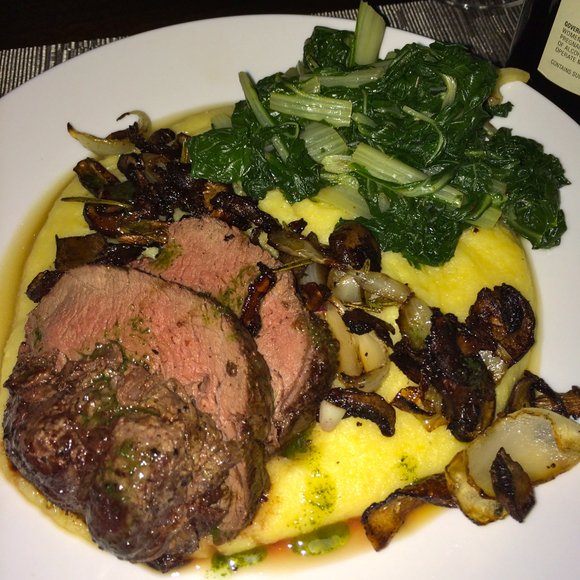 This weekend is not only for the father in your life. It is for the father figures—the ones putting in the work, showing up and being the best person they can be for the children they love. I salute them. For me, it's my brother Larry and good friends Mark, Jonathon, Sam, Michael, Skip, Tarik, Woody, Sheldon, Keith and all of my mom "dads" holding it down, too.
You might find yourself out to brunch, lunch or dinner this weekend so you can just focus and enjoy. However, should you wish to lay it down in the kitchen, beef tenderloin can be a welcomed, manly surprise!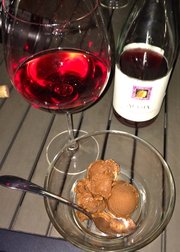 Recently, I purchased a whole beef tenderloin from Fairway Market (@FairwayMarket) for only $8 per pound. I would take on the challenge of butchering it myself for the first time. It was slightly daunting, but ultimately I was happy with the outcome.
A quick online search for videos of professional butchers made me feel like Neo from "The Matrix." I sharpened my carving knife and was off to the races, removing the silver skin (tough sinews that don't break down in the cooking process). There was supposed to be something called the chain that runs parallel to the loin (you can use it for kabobs or stew) but it seemed like it wasn't there.
Once the silver skin and excess fat was removed (I must pat myself on the back for my minimal waste), the beautiful red, lean loin revealed itself. If you are a filet mignon lover, you must give butchering tenderloin a try, as this $8 per pound investment becomes upwards of $24 per pound when done by the butcher. I netted seven filet mignon!
The third part of the beef tenderloin is called the head. For my first time, it was a little hard to decipher it, so at a point I deemed appropriate, I removed a portion of the tenderloin. I laid it out, seasoned it with freshly ground black pepper and slivers of fresh garlic, rolled it back up and tied it with butcher's twine into an even-sized roast.
The final stage was to wrap all of my loot separately and tightly in storage wrap and then into freezer bags.
SCHOP! Tip: Fight freezer burn! Always, always, always remove meats, poultry and fish from their containers, wrap tightly in plastic and then place into a freezer bag.) I was now officially excited about what I accomplished.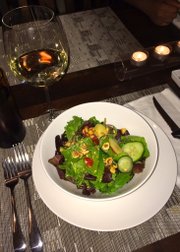 This past weekend, I took out that roast (a day ahead) from the freezer to thaw (on a plate) in the lowest part of my refrigerator (to avoid cross contamination). One hour before I was ready to cook it, I let it sit on my counter to come to room temperature.
SCHOP! Tip: Bringing meats to room temp allows for better cooking time and a moister final product.
While the oven preheated to 350 degrees, I heated a large cast iron pan over medium-high heat and seasoned the roast by threading a large sprig of fresh rosemary underneath the butcher's twine and sprinkling a liberal amount of kosher salt and freshly cracked black pepper. Once the pan was hot and the oven had come to temperature, I added three tablespoons or so of vegetable oil to the pan and seared all sides (four, doesn't include the ends) of the roast for two minutes each. I added some sliced crimini mushrooms and Vidalia onions to the pan, seasoned them with olive oil, salt and pepper and put the whole pan in the oven to roast for 25 minutes. (NOTE: Cooking time depends on size.)