Cotto's two-fisted attack forces Martinez to throw in the towel
6/12/2014, 3:03 p.m.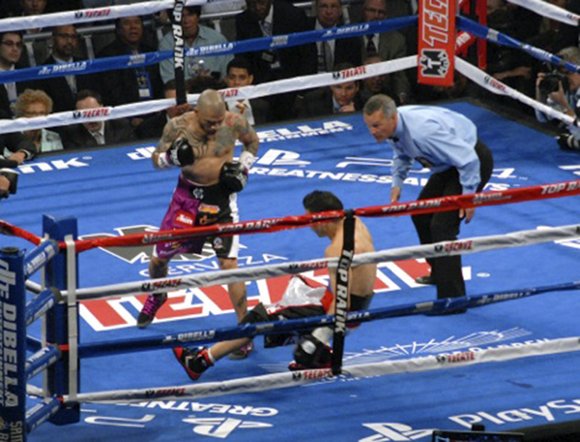 Puerto Rican native Miguel Cotto (39-4, 32 KOs), in his second fight with trainer Freddie Roach, unanimously and decisively beat Argentinian Sergio Martinez (51-3-2, 28 KOs) to gain the middleweight title, his fourth world championship, making him the first Puerto Rican fighter to win championships in four different weight classes: middle weight, junior welterweight, welterweight and junior middleweight.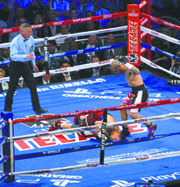 Martinez took a bloody beating from Cotto that began in the very first round when Cotto floored him three times with a barrage of shots from every direction. An audience of 21,090, the majority cheering for Cotto, witnessed the assault and battery on Martinez. Making his seventh title defense, Cotto said before the fight that his training camp was the best that he's had in his 13 years of professional boxing.
Martinez didn't seem to clear his head until the fourth round after taking that first round beating. He spent the rest of the fight trying to protect himself from being floored again. But he was assaulted again in the ninth round and took a knee in an attempt to clear his head with open cuts over both of his eyes.
His corner should have thrown in the towel, but they didn't, as the blood poured down his face and he waived them off. The referee could have stopped the fight, but he didn't. By the end of that round, Martinez's face was a bloody mess.
If his corner really cared about the safety of their fighter, they would have thrown in the towel and ended the fight.
Finally, at the beginning of the 10th round, Martinez called it quits. No excuses. Ironically, Martinez, 39, had predicted a knockout of Cotto, 33, at the weigh-in just days before.