Deidre Partlow finds her calling in fitness
Black New Yorker
6/12/2014, 4:49 p.m.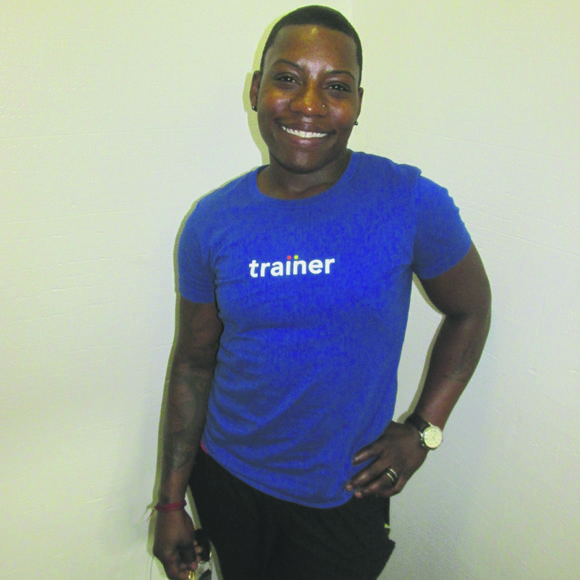 When talking to Deidre Partlow, a trainer at Blink Fitness in Harlem, you might be motivated to stretch, hit the weights and run the treadmill yourself.
The 29-year-old native of Gastonia, N.C. (the second largest satellite city of the Charlotte area) and a Harlem resident for seven years, Partlow—who's known as "Dee" by her friends—saw firsthand the results of hard work and entrepreneurship.
"I had Mom and Dad. My dad's actually a sheriff. My mom owns her own hair salon, and my dad also owns a janitorial service down south. My brother does some motivational speaking himself. We come from a pretty affluent family, but it's just your typical family. Neither of my parents went to college. They just had the mentality of 'what we didn't have, we're gonna make sure our kids have.'"
Partlow attended North Carolina Central University, a historically Black college in the state's university system, where she majored in business with a concentration in corporate sales. While in college, she pledged Delta Sigma Theta and played soccer. Soccer was a significant component of her upbringing, but other athletic endeavors came into the picture before and after.
"I've always been a very athletic kid," said Partlow. "From gymnastics to skating and rollerblading, you name it. But soccer was a sport that really took me to that next level. I played soccer my entire life. Right after college, I actually had an opportunity to play overseas. I played in London, Wales, Ireland, Finland, Sweden, Denmark and South Africa. Just to see the perspective of how one sport affects different people in different countries was eye-opening."
Once she came back from overseas, Partlow took a job in pharmaceutical sales at Eli Lilly and Company. Even then the theme of physical fitness found its way into her life.
"One thing I noticed is that every physician that I spoke with, the first thing they told their patients wasn't about the medication they were going to put them on," said Partlow. "It was about exercising.
"What made the icing on the cake for me is I got laid off. So now I'm thinking, 'I'm in this big city … what do I do?' Coming out of college, making $70,000 a year in the pharmaceutical industry, you're thinking 'This is a great city! I love it!' But as soon as that job goes, it's 'Oh wow, I didn't know the city was this hard to live in.'"
She then reached out to a couple of people and became the soccer coach at the United Nations International School. Partlow would organize games and athletic competitions where the diplomats would play against their kids.
While "finding herself" after losing her job in pharmaceutical sales, Partlow's road took her to joining a cycling club to trying out rowing. She eventually landed at Blink less than a year ago after testing out several gyms as a patron.
"When I started at Blink, I started at the front desk first," Partlow said. "So my goal was to really understand the culture and the base of the people that come to the gym. I worked in sales, and before I started training, I would be the one to recommend you to certain trainers.