Ebony Escapes! to Philadelphia
6/12/2014, 2:22 p.m.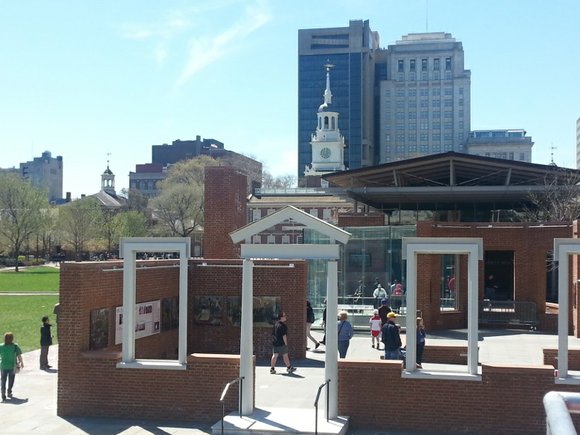 What do Benjamin Franklin, Rocky, Auguste Rodin, Wilt Chamberlain, Al Capone and Kevin Bacon all have in common? Philadelphia!
The second largest city on the East Coast and the fifth largest in the nation, Philadelphia is a fascinating and historic city. Situated across the Delaware River from New Jersey just 55 miles from Atlantic City, 100 miles from New York City and 133 miles from Washington, D.C., this location makes Philadelphia a popular and easily accessible travel destination via car, bus, train and plane.
The city's early denizens were Native American tribes and later Dutch and Swedish colonists who came here to establish frontier trades and settlements. The city layout came at the hands of William Penn, a prominent Quaker from England who envisioned a profitable European colony in the Americas and instituted numerous concepts that still hold today. His groundbreaking plans are no doubt part of why today Philadelphia is considered to be the most European city in America.
Now encompassing a population of just over 1.5 million people, the county demographics reflect approximately 45 percent whites, 44 percent African-Americans, 13 percent Hispanics and just under 7 percent Asians. Because of this great diversity, the city and surrounding areas offer a great deal as a major metropolitan melting pot through historic attractions, culinary offerings, performance and visual arts, music, textiles, retail and commercial industries and so forth.
Resource List
Betsy Ross House: 215-629-4026, http://historicphiladelphia.org/betsy-ross-house
Cathedral Basilica of Saints Peter & Paul: 215-561-1313, www.cathedralphila.org
Chinatown: www.philadelphia-chinatown.info
Greater Philadelphia Tourism Marketing Corp.: 215-599-0776, www.visitphilly.com
Independence Hall, 215-965-2305, www.nps.gov/inde/planyourvisit/independencehall.htm
Independence Visitors Center: 800-537-7676, http://www.phlvisitorcenter.com
Independence National Historical Park: http://www.nps.gov/inde/index.htm
Liberty Bell Center: www.nps.gov/inde/liberty-bell-center.htm
Logan Circle: http://withart.visitphilly.com/museums-attractions/logan-circle
Memorial Hall/Please Touch Museum: 215-581-3181, www.pleasetouchmuseum.org
National Constitution Center: 215-409-6600, http://constitutioncenter.org
Penn's Landing: 215-629-3200, www.delawareriverwaterfront.com
Philadelphia Trolley Works and 76 Bus Company: 215-389-8687, www.phillytour.com
Exploring the city of brotherly love
The nickname "The City of Brotherly Love" also came from Penn, who combined the Greek words for love, "phileo," and brother, "adelphos," as sort of an homage to what he felt as an early denizen and what he hoped to impart to all who came here.
A great place to start your exploration of all of this love is at the Independence Visitors Center, which is chock full of resources about literally every site and attraction the city has to offer. The center is one of numerous entities comprising the 55-acre, 20-city block Independence National Historical Park, "America's Most Historic Square Mile." And it is here that you will learn why many of the places, people and events that took place here made Philadelphia a city of "firsts."
The latter includes the first brick house in the U.S. (1682); the first public school in the America colonies (1698), Philadelphia Hospital, the oldest hospital in America (1732); the first scientific institution in America, founded by Benjamin Franklin (1749); the founding of the American Medical Society (1773); the first conferment of a medical degree to women at the Female Medical College of Philadelphia, now Women's Medical College (1852); the first zoological garden in America (1847); and the first World's Fair in the U.S., held in conjunction with the centennial anniversary of the Declaration of Independence (1876), just to name a few.